How BPAR Could Support the This Is Us Family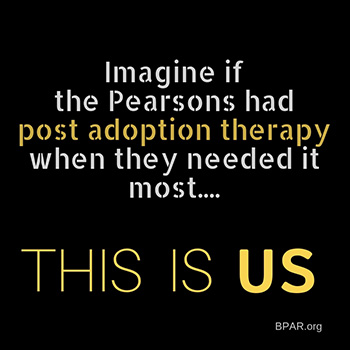 Tonight we anticipate the Season 4 debut of the popular tv show, "This is Us." The show follows the lives of the Pearson Family, moving back and forth in time from the courtship of the parents to present day. During the initial episode of this series, viewers learn that parents Jack and Rebecca give birth to triplets, however, one of their babies does not survive. At the same time, another baby is left at the local fire station and brought to the hospital, and ultimately the Pearsons decide to adopt this baby as their third child. The show can be moving and sentimental, and more often than not, the audience needs a box of tissues as they follow the main characters over the years as they grow and change and struggle with issues of loss and family and love. The clinicians at Boston Post Adoption Resources have followed the This Is Us family especially closely these last three seasons due to key plot lines that include adoption and foster care.
Themes of Adoption and Foster Care in "This Is Us"
In the initial episode, of course, we learn that Randall was adopted at birth. This is a transracial adoption, and this issue is addressed openly in several episodes. Powerful themes of abandonment and loss arise from the beginning of the series, as Rebecca and Jack struggle with the loss of a child, and Randall is left at a fire station at birth and grows up not knowing who his birth parents are or why they placed him. As an adult, Randall finds his birth father and develops a relationship with him, but the relationship is short-lived due to his father's imminent death due to cancer. At the same time, we learn that Randall's mother, Rebecca, had known who his biological father was for years, and had kept this information from him. These are powerful themes in the world of adoption and foster care: Who am I, really? Who are my people? Why was I relinquished for adoption? Should I search for my birth family? How will my adoptive family react to this search? Add to these the themes surrounding new character Deja, placed in Randall and Beth's home when they decide to take in a foster child. Throughout this season, we learn about Deja's history, her mother's struggles to provide her with a stable home, and the trauma that she has experienced.
Boston Post Adoption Resources provides services for families similar to the characters in "This Is Us." Our goal is to provide all members of the adoption triad — birth parents, adoptees and adoptive parents — with the support they need to negotiate the complex twists and turns of the adoption and foster care journey. Here are some of the ways that we could help the Pearson family (Spoiler alert – please know that some plot lines are revealed below!):
Parent Support and Family Therapy
PARENTING TOOLS
Adopting a child or taking a foster child into your home is a life-changing decision. BPAR could provide the Pearsons with parent support as well as family therapy to address concerns that arise throughout the different stages of life. If Jack and Rebecca had connected with BPAR when their children were young, they could meet with a therapist for support around parenting three unique and wonderful kids, and planning how to address any adoption concerns that may arise. The Pearsons could have been educated about becoming a transracial family, and they would have had the opportunity to explore any worries about losing Randall if he were to connect with his birth father.
It is not unusual for adoptive parents to be fearful when a biological parent comes back into a child's life. This fear becomes so powerful and crippling that in many situations the adoptive parents cannot imagine risking the chance of losing their child. At BPAR, we would have been able to talk with Rebecca and Jack about their fears as well as their hopes for Randall.  Rebecca might have felt safer and more confident allowing Randall to meet his birth father once William was in a better place and living a healthier life. When William was ready in his own healing to meet with his son, we could have arranged for Rebecca and Jack to meet with William at the BPAR offices, and see that William was a loving father who wanted some connection with his son. After this initial meeting, the fear would dissipate, respect and trust would slowly develop, and a relationship could be built. Perhaps after several sessions with BPAR, Rebecca, Jack and William could arrange for family visits together at BPAR with a clinician present.
Had this happened, Randall could have grown up in a family that had no secrets or shame, and he would have witnessed his family embrace his birth father and celebrate their cultural and racial differences. Eventually, as Randall grows older and begins to think more about his identity, he would have had more information to make sense of his story at an earlier age.
OPEN CONVERSATIONS
During their early and teen years, as the Pearson siblings all struggle with their own developmental and identity issues, family therapy could help address and support sibling and family relationships and dynamics. Over the years, we can see each child adopting a role within their family system. Kevin feels that Randall is loved more than he is, and this results in a very fragile relationship between the two brothers. Kate buries her emotions in food. Jack —  and later Kevin —  uses alcohol to cope, while Rebecca tries to make up for Randall's early loss by giving him extra love and attention. Rebecca attempts to keep everyone happy and create an idyllic family life without addressing the underlying issues and challenges that need to be discussed. A family with many needs naturally experiences stress in their relationships. To make matters more complex, both Jack and Rebecca come from families that did not have healthy conversations and relationships. Without these tools, it is harder for them to parent when tough issues arise.
Family therapy at BPAR would be helpful at various stressful times throughout the lives of the Pearson family. In the show, when Randall finally does reunite with his father, they could work together in family sessions to explore why William relinquished his son for adoption, address concerns and feelings around this decision, and process saying good-bye again shortly after father and son finally meet.
UNDERSTANDING THE EFFECTS OF LOSS
As Deja transitions into their home and presents with complex issues around foster care and family, Randall and Beth could meet with a therapist to address providing the best care possible for Deja while at the same time understanding how Randall's personal history of adoption and loss impacts his reactions and parenting. At the end of season two, when Deja's mother signs the petition to terminate her parental rights, Deja becomes sullen and angry and begins to act out. A therapist could work with Randall and Beth and help them understand Deja's behaviors and feelings, and help them strategize how to best support and work with Deja as she struggles with her own feelings of loss and shame.
Individual Therapy
THE LIFELONG JOURNEY OF ADOPTION
Adoption is a lifelong journey. Themes of loss and grief, anger and sadness and identity concerns, to name a few, ebb and flow throughout the lives of all members of the adoption triad.  In addition to family work, BPAR could also provide individual treatment at various times during the characters' lives.
Randall might attend therapy as a child and a teen to explore his feelings around his transracial adoption, his identity issues, and his drive to become the "perfect child" by controlling and organizing his environment. A therapist could help Randall understand his early beginnings and feel comfortable talking with his parents about any questions he had about his early years.
PLANNING A REUNION
If the Pearson family had connected with William and planned a visit, a clinician would work closely with Randall to find out what he wanted to know about his father, and make sure that he felt safe and comfortable prior to and during the visit. As an adult, Randall could meet with a therapist to continue to work through issues related to his adoption history that become triggered as he meets his birth father and becomes a father and a foster father himself. Not long after he meets his birth father, Randall loses him to cancer; individual therapy during this significant and heart-wrenching life event would provide Randall with a place to mourn his father and explore what his brief relationship with his father has meant to him.
Deja could meet with a therapist to talk about her loving but complicated relationship with her mother and her history of trauma. Upon learning that her mother has terminated her parental rights, individual therapy would be essential to provide Deja with a safe place to address her feelings regarding this. If talking is too difficult for Deja, her therapist could use expressive arts to work through her concerns and worries, something BPAR does often with children, teens, and even adults.
Group Therapy
Boston Post Adoption Resources offers group therapy for early teens, teens, adoptive parents, and adult adoptees. These groups provide a safe and supportive space for adoptees and their parents to talk with others who have had similar experiences. Often, adoptees, foster children and their adoptive parents feel isolated and misunderstood, and groups are a unique and wonderful way to connect with others who understand what they are going through.
Imagine how comforting it would have been for a young Randall to walk into a group of adoptees who absolutely "get it" – they understand what it means to look very different from the people who are raising you. Or, consider if Rebecca had met with a group of adoptive parents and had the opportunity to share her fears about allowing Randall to have contact with William. Picture Deja, alone and scared and learning that her mother has signed the petition to terminate her parental rights. When she is ready to join a group of her peers, the support and connections she might feel there could be transformative.
Search and Reunion
NAVIGATING A SEARCH
BPAR supports adoptees when they make the life-changing decision to search for birth parents. The search process can be overwhelming and quite challenging at times, and it can trigger a myriad of feelings in the adoptee and adoptive family.
When Randall decides to search for and connect with his birth parent, BPAR could provide him with a safe place to navigate this journey. Prior to contacting William, Randall would have a place to talk about his feelings and his fantasies around his birth parent and plan a thoughtful reunion. BPAR would be there every step of the reunion process, helping each member navigate the reunion and process the emotions that arise.
"This Is Us" is rich with individual and family dynamics that include issues we frequently see in our clinical work with all members of the adoption triad. Adoptees, adoptive families and birth parents often feel untethered and alone as they try and navigate the challenges and concerns associated with their adoption or foster history that arise throughout their lives. BPAR's goal is to help individuals and families like the Pearsons feel supported and less alone as they explore their feelings and the complex world of their adoption and foster care.
Written by Jennifer Eckert, KC Craig, and Erica Kramer
Boston Post Adoption Resources