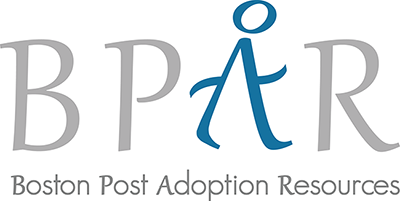 BPAR's Mission and Approach
Boston Post Adoption Resources, also known as BPAR, is a nonprofit organization that was founded to support all individuals and families who are touched by adoption. We understand the challenges and impact that adoption can have on relationships, family dynamics, and identity. Our team of licensed mental health professionals is specifically trained to deal with post adoption challenges with clients of all ages in individual, family and group settings. We recognize that every situation is different, and our goal is to provide support to you and your family on your lifelong journey through adoption.
Providing Specialized Trauma-Informed Therapeutic SUPPORT
At BPAR, we've nurtured a team of adoption competent clinicians with special training to recognize challenges that may have a connection to the adoption experience. In other words, when we work with you or your family, we are able to look through an adoption lens. Our view allows us to open up a path to healing that is often otherwise overlooked or misunderstood. We have broad experience that includes transracial, international and domestic adoption, foster care, and support for all members of the adoption triad: the adoptee, adoptive or foster parents, and birth parents. We begin working with clients as young as age 5 all the way past retirement.
"As an adult adoptee myself, it was important to me to create a space where people touched by adoption could come and be listened to and understood. This vision came true in June of 2012. Boston Post Adoption Resources is here to support those facing challenges or having questions around adoption. Adoption is complex. Each individual's story is unique and intricate. There are many moving parts and similar to life, always changing. We offer different ways of connecting with others to tell your story."
Listen to our founder's story
on "The Story Behind Her Success" podcast.
CONNECTING You to Resources
EDUCATING the Public About the Impact of Adoption
The adoption experience does not end with placement. We strive to eliminate misperceptions, build sensitivity, and normalize the joys and challenges that can occur at any age. So often, our clients are surprised to realize they are not alone!
Few people know that lifetime post adoption support even exists, and in fact, what we're doing here at BPAR is special. As part of our nonprofit commitment, we have developed platforms for spreading the word, including our blog, social media, speaking engagements, and publicity. We share some of these efforts in our Media Room.
BPAR offers a free initial phone consultation (*please see note below) to assess your needs. As part of our nonprofit mission, we aim to assist everyone who reaches out to us for adoption-related support in order to connect you to appropriate resources. Please use our Consultation Request Form to reach out to us.