This page provides a sample of some of BPAR's media and speaking activity, recognition of our accomplishments, plus our own newsletter archive. Please contact us if you'd like to learn more.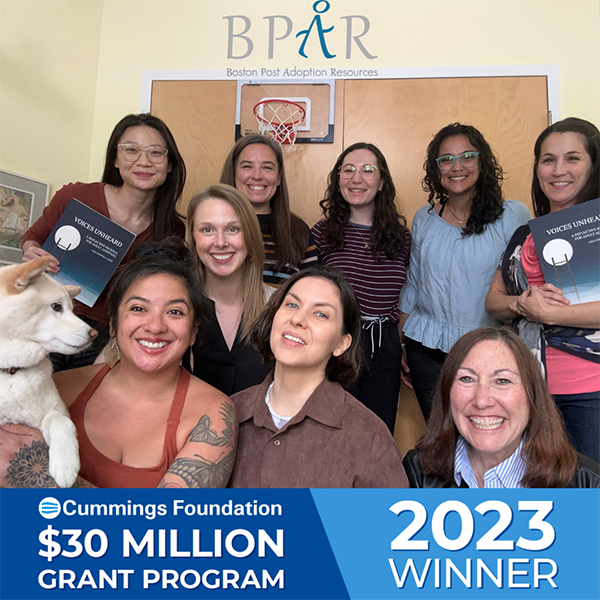 Boston Post Adoption Resources is proud to receive a generous grant from the Cummings Foundation $30 Million Grant Program in 2023!
We were chosen from a total of 630 nonprofit applicants
during a competitive review process.
This multi-year commitment is an investment in BPAR's mission to address the shortage of adoption-competent mental health support in Greater Boston and to offer trauma-informed therapeutic care in an environment that encourages lifelong healing.
BPAR Presentations & Speaking
The BPAR clinicians make presentations on adoption competency for mental health peers; discuss post adoption resources at conferences; and provide an adoption-related perspective to the traditional press and online media.
We welcome new speaking and media opportunities as part of our ongoing commitment to educating professionals and the public about mental health services and resources related to the adoption experience.
Grief specialist Ken Barringer invited Lisa Coppola to talk about unacknowledged grief in adoption on his Grief In Brief podcast in June 2023.
Fostering Families Today chose the Voices Unheard journal for a March 2023 book review, writing it is "designed with the end-user in mind...to work toward healing.
Jordan Rich interviewed Lisa Coppola about the techniques to help adoptees in the Voices Unheard journal on the On Mic with Jordan Rich Podcast in January 2023.
Jordan Rich reviews the Voices Unheard journal for the WBZ Book Club to kick off National Adoption Month in November 2022.
Severance Magazine published a Q&A with Lisa Coppola to discuss how writing in the Voices Unheard journal is valuable and therapeutic for adoptees.
Northern Essex Community College published a Summer 2022 Q&A with Lisa Coppola discussing her career as a therapist and authoring the Voices Unheard journal with BPAR.
Good Morning America interviewed BPAR clinician Marta Sierra for their segment on a search and reunion story on November 18, 2021
Candy O'Terry interviews BPAR founder Jennifer Eckert on The Story Behind Her Success podcast, a weekly show to inspire women leaders, November 13, 2019
The Sun in Osceola, WI sought out Jennifer Eckert for an expert's quote on adoptee emotions during the holidays on December 27, 2019
Every few months, we compile a newsletter packed full of information about new post adoption resources, BPAR team news, adoption events, and other information useful to the adoption and foster care community. Take a look at this archive list of past newsletters to see our impact over the years and how we've grown!
Book Release Newsletter April 2017