At Boston Post Adoption Resources, we understand the challenges and impact that adoption can have on relationships, family dynamics, and identity. No matter what your adoption related question or concern is, you do not have to figure it out alone!
Provide specialized therapeutic support
Connect individuals, families & professionals to resources
Educate the public about post adoption services
... to ensure that all those touched by adoption lead healthy, productive lives.
Our adoption competent clinicians offer many types of support:
Contact us to decide what's right for you or your family.
At BPAR we are committed to the safety of our clients.
We are continuing to provide the majority of our services through telehealth
as long as state and federal regulations recommend this as a best practice.
In the future, when we do offer in-person therapy, we will do it in a way that is as safe as possible.
Our clinicians will discuss opportunities for in-person services when available.
Join Us at an Adoption Support Group,
Wellness Workshop, or Event
Group, Workshop & Event Schedule
Resources for All Touched by Adoption
We offer a comprehensive online Post Adoption Resources Center.
Resources Especially for You
BPAR creates and collects resources to guide you wherever you are on your journey.
"My family is a one parent, transracial adopted family. SO much beauty and SO much complexity. BPAR helps me navigate and unearth all of it." — Megan C, adoptive parent, BPAR client
"Everyone deserves support to heal from the trauma they have endured, and transracial adoptees are no exception. Support for adoptees has not always been prioritized, in favor of a rhetoric that adoptees are lucky and that their trauma is erased once they have a family. But still the effects of trauma related to adoption and racism are ever present. That's why adoption support is so important for adoptees and their families." — Malana, adult adoptee
"It's a destination point for me, and then when you get to the destination, it's really warm, it's welcoming, it's friendly."
—A FOSTER PARENT
"It's like you're walking into a home.  I love it."
—AN ADULT ADOPTEE
Read the BPAR Blog
Here's what's new:
We feel despair and hopelessness when we lose control of our lives, and this often leads to "feeling stuck." Here's how we can feel more confident and less stuck.
Read More
Learn About Our Book:
Adoption Is a Lifelong Journey
Meet Charlie.
He's the narrator of BPAR's illustrated book, Adoption Is a Lifelong Journey. Charlie's an adoptee who opens his heart and shares what's on his mind through various phases as he grows up in his adoptive home.
Here's what two renowned adoption authors have to say about our tool for families and professionals:
"Each page beckons the adults in the room to step into the shoes of the child, providing insights and tools to help educate and empower families and create a healthy environment for children to thrive."
—JEAN A.S. STRAUSS, AUTHOR
"The best book of its kind that I have ever read. All adoptive parents and prospective adoptive parents need to read this book. It is superb."
—JOE SOLL, LCSW, ADOPTEE, PSYCHOTHERAPIST & AUTHOR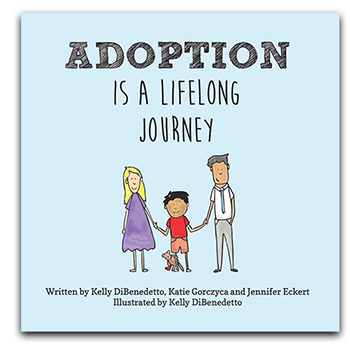 All proceeds from the sale of Adoption Is a Lifelong Journey support BPAR's mission.
Personal Adoption Stories
BPAR Is Grateful for Client Feedback!
"Your extensive list of answers actually brought me to tears.
Until now I have felt alone and unsupported."
—SS, adult adoptee
"I always leave a session with a new thought or perspective.
BPAR nudges me to better myself and to be a better parent."
—Megan C, foster adoptive parent
"BPAR specializes in adoption issues,
and their therapists truly understand how to help me connect with my daughter."
—Ericka, adoptive parent
"I think it's about the really thoughtful approach that you take.
Steadfast, honest, clear-sighted, intentional, thoughtful advice helps my own development."
—Dan, foster parent
"I need help understanding that part of me so I can get over that hump in life.
You guys opened a path for me. So now I'm just walking down it."
—An adult transracial adoptee
We'll let you know when we post a new blog or write a newsletter.
All new subscribers receive BPAR's printable infographic:
"5 Areas of Support for Adoptive Parents"