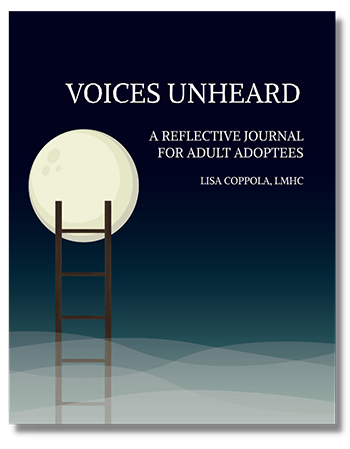 Published by Boston Post Adoption Resources
ISBN 978-0-578-36683-8 (paperback)
ISBN 979-8-218-03161-9
The process of writing in this journal
will allow you to make room for a deeper healing experience
that will promote authenticity, a more secure sense of identity, and in turn, a more rewarding life.
For an adoptee, coming out of the fog often follows self-reflection, therapy, and peer support—processes well understood by author Lisa Coppola, a mental health counselor whose earliest memories include adoption support group meetings in her home. Her 52-week writing journal, Voices Unheard: A Reflective Journal for Adult Adoptees, offers prompts based on core themes that arise in therapy, space for writing, resources including a glossary, and guidelines plus a script to help volunteer moderators run peer groups.
Adult adoptees can use the journal as a guide individually or under the care of a therapist.
Therapists can use the journal as a tool in their practice with adopted clients.
Peer-led support group moderators can use the prompts as weekly assignments, enabling attendees to share their thoughts and build connections in a group setting.
AUTHOR INTERVIEW
ON RIGHT MIND MEDIA
AUTHOR INTERVIEW
ON MIC WITH JORDAN RICH
AUTHOR INTERVIEW C.A.S.E. ADOPTEE AUTHOR SERIES
60-SECOND BOOK REVIEW BY JORDAN RICH
FOR THE WBZ BOOK CLUB
PRAISE FOR VOICES UNHEARD:
A REFLECTIVE JOURNAL FOR ADULT ADOPTEES
"This guided journal is long overdue. It offers an adoptee the opportunity to carefully examine their perspectives and feelings about their life and to clarify what is truth."
—Sharon Kaplan Roszia, co-author of Seven Core Issues in Adoption and Permanency: A Comprehensive Guide to Promoting Understanding and Healing in Adoption, Foster Care, Kinship Families and Third-Party Reproduction
"Voices Unheard: A Reflective Journal for Adult Adoptees is a vital tool for therapists who want to better understand the emotional lives of adoptees and an indispensable guide to help peer group leaders facilitate healing conversation. I highly recommend it."
—B.K. Jackson, editor of Severance Magazine
"An important guide for digging deeper into the emotional landscape we need to explore in this lifetime journey of healing and discovery."
—Deborah Jiang-Stein, adoptee, author of Prison Baby: A Memoir, Founder, unPrison Project
"This journal allows us to take control of our narrative, to put our own experiences into our own words, and in doing so find measures of grace, understanding, and healing."
—Steve Pemberton, author of A Chance in the World: An Orphan Boy, a Mysterious Past, and How He Found a Place Called Home
"Bravely breaks through the mystery of the unspoken and offers a map for adoptees, one that urges us to listen to the truth of our bodies—the only kind of map we can trust."
—Jan Beatty, adoptee, author of American Bastard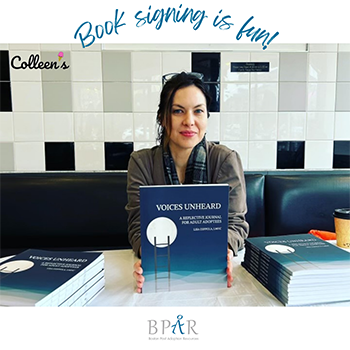 Adoptee-to-adoptee connection is irreplaceable. Just as two people in recovery from addiction benefit from the magic of group settings, adoptees can start to heal and feel understood when they have an opportunity to talk about their shared issues. Peer-led support groups, sometimes referred to as self-help support groups, enable this kind of connection in a setting where group members meet to provide mutual support without the assistance of professional moderators.
Our journal takes the mystery out of starting an adult adoptee peer support group. It offers suggestions for establishing a group and paints a picture of how a moderator might run a typical group meeting, using the journal's 52 theme-based prompts to provide structure so all participants can prepare in advance and focus on a specific topic.
In the book, you'll find:
Details about a volunteer moderator's role
Steps for how to recruit group members
A sample moderator script
A glossary of post-adoption vocabulary terms that may be helpful in supporting a variety of needs
Suggested reading for deeper study
Boston Post Adoption Resources ("BPAR") does not endorse or license independent support groups that choose to use  Voices Unheard: A Reflective Journal for Adult Adoptees in connection with their group activities. An independent group's use or reference to Voices Unheard: A Reflective Journal for Adult Adoptees does not imply affiliation with or endorsement by BPAR. Each group and its members and former members are ultimately responsible for themselves, including the individual group's structure and rules, as well as the mental wellness, self-care, and choices of member recruitment. BPAR and its agents are not responsible or liable for the outcomes, disputes, mental health experiences, or any other outcomes related to current or past members of independently operated support groups.