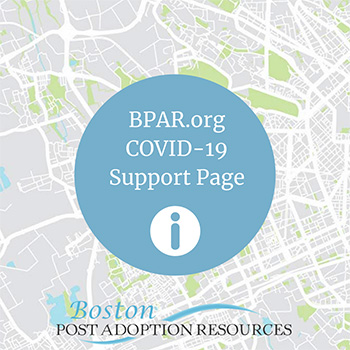 Support During the COVID-19 Outbreak
At BPAR we believe that adoption is a lifelong journey—and what a journey we are on right now. The well-being of our clients is of the utmost importance now more than ever. We take your ongoing care extremely seriously, and we will continue to provide the best possible support during this difficult period.
At the same time, we are committed to creating and sharing free resources available to all. Please check this page periodically, as we will keep adding resources. Or please subscribe to the BPAR mailing list for notifications.
BPAR's Toolkit of Resources During COVID-19 Self-Isolation
The Boston Post Adoption Resources blog titled "Back to Basics: A Toolkit of Resources During COVID-19 Self-Isolation" shares resources our BPAR team has found helpful in our practice. Topics include:
Resources/articles to manage coronavirus anxiety and stress
Resources for those working with children and/or parents
Online community supports
Resources for those experiencing racism and/or xenophobia
Meditations
ADHD resources
Exercise and yoga
Happiness course
Whether we are therapists, parents at home with our children, or healthcare workers, we can all use this time of self-isolation as an opportunity for a "retreat" to reflect on our own needs so that we are, in turn, able to take care of others. This retreat re-frame helps us view this unexpected situation as an opportunity for personal growth.
Other Helpful COVID-19 Resources
OFFICIAL ALERTS AND SOURCES
WIFI SOURCES
MEAL SOURCES
HEALTH
MENTAL HEALTH
CAREERS & EMPLOYMENT
SUBSTANCE ABUSE SUPPORT
Lahey Health (Beth Israel) – Boston (617-247-1001); Danvers (978-777-2121); Tewksbury (978-259-7000)
New England Recovery Center – Westborough; https://www.newenglandrecoverycenter.org/; 1-877-MYREHAB
Nationwide AA meeting list – https://www.aa.org/
Psych Garden - Belmont; bi-weekly support group for families and friends,1st and 3rd Thursday, 7 – 8:30pm; https://www.psychgarden.com/; 857-598-2808
Serenity at Summit New England – Haverhill; 844-275-8089
FREE PARENTING TOOLS
FAMILY INFO ON NURSING HOMES
Call 617-660-5399 from 9 am - 5 pm to reach the state of MA dedicated Nursing Home Family Resource Line during the COVID-19 outbreak. Staff will coordinate across state agencies to help callers find answers to their questions.
FREE CULTURAL ACTIVITIES
FREE BOOKS
SELF-CARE THERAPIES & RESOURCES
Self-Care Ideas from BPAR Clinicians
As mental health professionals,
the BPAR team
prioritizes self-care for ourselves as well as our clients. Here's how we've been practicing self-care during the COVID-19 crisis.
Jennifer Eckert:
The most important self-care tool that I have been using is to meditate every day. I use Calm, but there are many excellent free guided meditations on YouTube right now. My favorite self-care book is When Things Fall Apart: Heart Advice for Difficult Times by Pema Chodron. It is invaluable to me right now.
Kelly DBenedetto:
A consistent morning workout routine has been key to managing my own stress and anxiety. Once a week I bake something indulgent and delicious to enjoy throughout the week. And I am practicing gratitude as much as I can. I say thank you to pretty much everything in my house.
KC Craig:
I exercise almost every day, I do a 5-minute daily meditation, and I focus on one specific thing I am grateful for, and also choose one thing to let go of, each day.
Maya Rogers-Bursen:
It's been refreshing to connect with friends and family more often over FaceTime. I have been perfecting my grilling skills, and exercising every day. I think the more-than-occasional scoop of brownie batter ice cream has been the best self care of all!
Lisa Coppola:
I go for a walk every day or do yoga. I also attend support groups every week and have been doing that for over a decade. The relationships I have developed over the years in these groups have been with me through the best and worst times and are absolutely priceless to me.
Marta Isabella Sierra:
My self-care consists of almost-daily exercise, daily check-ins with adoptee chosen sisters, lots of time with my cat and dog, and the Great British Baking Show.
Erica Kramer:
My self care: daily long walks with my dogs and weekly Zoom calls with family and friends—could not get through everything without those!!
BPAR.org Blogs that Can Be Helpful