A New Way to Connect: Podcasts by Adoptees for Adoptees (and their loved ones)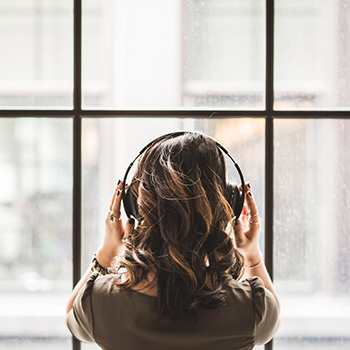 Podcasts are a great way to easily plug in to the adoptee community, explore common themes with adoptee experiences, and learn about roads to healing that are available. Recently I have been diving deep into the adoptee podcast world, and all that I've heard is helping me feel a new sense of belonging and community — and is giving me amazing resources to offer my clients in therapy!
I have compiled a list of my personal favorite podcasts by adoptees and episodes which I feel could be particularly beneficial for folks. These segments could also be very helpful for partners, friends and family members. They may help others understand those of us who are adopted in new ways and could prove to be helpful in our relationships.
Lisa's Recommended Podcasts for Adoptees:
Adoptees On Podcast

Adoptees On is probably my favorite podcast. It features stories from adopted people sharing their intimate experiences with being adopted. The podcast includes a series called the "Healing Series" in which therapists and doctors who are also adoptees share their stories and their clinical knowledge with the audience.
Specific recommended episodes of interest:
Healing Series, episode 113 – "Coming Out of the Fog" – An introduction to the concept of realizing, usually as an adult, the complicated experiences that come with adoption.
Healing Series, episode 103 – "Implicit Memory"- An explanation from Dr. Julie Lopez, also an adoptee, about how memories we do not recall, as we may have been too young, can affect us and what we can do to manage their effects on us.
Season 3, Episode 12 – "Brian on Reunion and Identity" – I found Brian incredibly interesting to listen to, and his story is one of healing through creating

.

Season 2, Episode 4 "Anne Heffron, Author of You Don't Look Adopted"– I love this memoirist and bought her book immediately after listening to the podcast! Also, she is hilarious.
Healing Series, Episode 99- "When Reunion Fails – Identity"- Such an important topic that really needs to be discussed more.
Healing Series: "Romantic Relationships"- Important segment for adoptees or their partners to listen to!
Healing Series, Episode 109 – "How to Choose a Therapist"- Why it is important as an adoptee to choose an adoption-competent therapist, and what adoption competency means.
April Dinwoodie On Adoption and Identity Podcast

For me, April Dinwoodie On Adoption and Identity was easy to tune into quickly and learn about big ideas regarding being a transracial adoptee growing up in a white family.
Start with: April 18, 2019 podcast – "Exploring Adoption, Identity and Family."
The Rambler Podcast

I found The Rambler to be very true to name. Host Mike McDonald has a truckload of thoughts going through his head, many being very hilarious, and many of them hit the spot when it comes to being adopted. This podcast is long, but worth it if you are on a longer drive. Each episode is a candid one-on-one interview with another adoptee.
Try Episode 50- Michaela Dietz is a voiceover artist and performer, whose credits include Steven Universe (Amethyst), Barney & Friends (Riff), Grand Theft Auto V, and some top secret projects in the works. Super funny. I highly recommend this episode if you have time.
Adapted Podcast
Adapted is a podcast that explores the experiences of Korean adoptees, from post-reunion stories to living in Korea as adults. Since the 1950s, the Korean government records show more than 160,000 children were sent overseas to be adopted. Many researchers and adoptee advocates believe that number is under-reported and is actually closer to 200,000. The experiences of adoptees are varied and unique to each circumstance; yet we start from a similar starting point:  as transnational adoptees from Korea.
Listen to Milton Washington,  Episode 21 – Adopted at 8, A black Korean memoir writer "Slickyboy"
Right Mind Media Podcast
Right Mind Media focuses on addiction, not adoption, but I tie the two subjects together in my work as a therapist, and in Episode 101: Adoption Addiction and Loss with Lisa Coppola LMHC (yours truly!),
I share my knowledge about adoption, loss and trauma and how these experiences may impact our impulse to control our feelings with substances.
Written by Lisa Coppola, LMHC
Boston Post Adoption Resources