Adoptive Families Need Resources Like BPAR
BPAR is honored to share this guest blog written by our peer at Massachusetts Adoption Resource Exchange (MARE). MARE is instrumental in supporting families through the adoption process by providing personalized matching, resources, and networking events such as the upcoming Jordan's Furniture Adoption Option in partnership with Jordan's Furniture on Sunday, September 23, 2018. To learn more about the event, visit .
---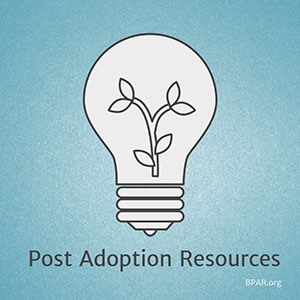 MARE is a non-profit organization whose mission is to find a permanent home for every child. Through our work, we have found that connecting adoptive families to post adoption resources has been extremely important.
Why Families Seek Post Adoption Therapy
Many adoptive families have used therapy from the outset. Some come to it later when their child's behaviors become worrisome or interfere with life at home and/or school. Either way, parents seem to run up against the same issues. What kind of therapy is best for my child? How involved should we be? How much does this therapist know about adoption? Or about attachment or trauma? And will it be covered by insurance? How will we pay for it?
These stressors are compounded by the fact that families may already be in crisis or at a loss for how to help their child when everything they've tried seems to be ineffective. While parents are dealing with a child's destructiveness, aggression, depression and other intense emotions and behaviors, there is little brain space and energy left over to discern who to trust with your child's well-being. Post adoption support is essential during these critical times.
The Right Kind of Therapist After Adoption
By the time I speak with other adoptive parents, they've typically done a Google search or maybe used an online therapist directory but understandably feel reluctant to make a cold call. Other times they've called everyone who seemed like a possible fit only to find their waitlists are very long or they're not accepting new clients or their insurance provider may not even cover the cost of the services they offer. The adoption community specifically needs more clinicians who are trauma informed and competent in meeting the particular needs of children. They need therapists who understand that adoption is different for every child and every family, and the importance of providing a safe space to talk about it with the guidance of a trained adoption professional.
What often underlies these calls is a parent's desire to find that silver bullet, a therapy by whatever name that will reach their child, empower them as parents, and bring the whole family closer together. Parents are looking for clinicians who are going to start with the belief that parents know their child best but need more knowledge, help with techniques, and the confidence to do the emotional work.
Resources We Recommend at MARE
MARE has often referred our clients to Boston Post Adoption Resources because they offer a variety of treatment modalities with adoption competent clinicians. They are an invaluable resource in the adoption world, and in addition to providing clinical support, they also provide general resources for the community and for professionals. Other helpful resources include C.A.S.E., a national mental health organization serving the foster care/adoption community through direct clinical services, and JRI, one of the largest human services providers in the state offering residential and outpatient/community based services.
Written by Diane Tomaz, Director of Family Support Services, Guest Writer
MARE