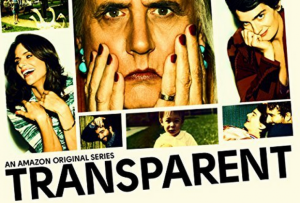 This new series on Amazon Prime just won two Golden Globes and is absolutely worth checking out. The series takes us on a journey inside the life of a transgender adult and the impact his lifestyle has on the family. The dramatic comedy follows the Pfefferman family, which consists of Mort, his ex-wife Shelly, and their three adult children Sarah, Josh and Ali. Throughout the episodes Mort discloses to his children that he is transgender and is transitioning into Maura. As Maura's secret is revealed additional secrets begin surfacing within the family, which forces each of the characters to confront many difficult truths and as a result start to analyze themselves.
The theme of secrecy is prevalent throughout the show. In the first episode the viewer gets a quick glimpse into each of the character's lives where we immediately get a sense of the close knit and almost boundary-less relationships between siblings and their self-involved lives. When we first meet the siblings we are introduced to all three living seemingly healthy, independent lives. However after Maura reveals her secret to the family we are slowly introduced to everyone else's secrets as well. Sarah struggles with infidelity and sexuality; Josh struggles with feeling empty and we are shown an early unhealthy relationship that has contributed to his struggle to commit; and Ali struggles with early trauma and significant mental health issues that she tries to keep hidden. The viewer gets an in depth perspective of each of the siblings lives, and flashbacks to the kids lives when they were younger help us to see how their upbringings have shaped who they are as adults. Despite the fact that Maura reveals his truth to his children as adults, it makes them all reflect on their lives and how much this hidden information has shaped their upbringing and choices they make today.
Although funny at times, Transparent also address the painful and difficult aspects of being transgender. Throughout the season Maura becomes increasingly confident in her identity – she starts dressing as a women daily, moves into a transgender community and goes out public with her family dressed as a woman. Although most of her family embraces her she is confronted with some difficult negative consequences – from her family and society.
Although Transparent is not specifically about adoption it has ties to it through its themes of secrecy, birth parents, and identity. It also touches upon the importance of how great an impact holding and sharing information can have on a family. This is certainly not a show for children or young teenagers as it has a significant amount of adult language, sex, and some drug use. Transparent is highly recommended for any adult who is interested in complex family dynamics, transgender and adoption.
Written by Kelly DiBenedetto
Boston Post Adoption Resources