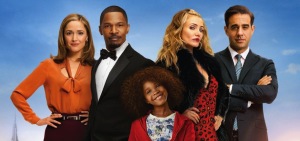 Have you seen the classic 1982 Annie Musical?
Have you seen the new 2014 version?
"It's a hard knock life."
I have to say, as an Annie fan, director Will Gluck created a spectacular rendition of the original musical, which stars Jamie Foxx, Quvenzhane Wallis and Cameron Diaz. The plot is relatively the same, with a few new songs, and an important racial character change. For those of you who don't know, Annie has been in the foster care system for all of her life. The common theme throughout the film is Annie's desire to find her birthparents. She lives in New York City under Miss Hannigan's roof.
"Yes, Yes, I think I'm gonna like it here!"
One afternoon, on Annie's way home she is saved from a car hitting her by the wealthy Mr. Stacks who is running for Mayor. Long story short, the save was immediately on social media, and Mr. Stacks' advisor scheduled another visit with Annie for publicity reasons. After getting to know Annie, Mr. Stacks finds himself forming a trusting relationship, which leads to Annie moving into his extravagant apartment.
"Who am I to spend my life alone? Forever looking for some place to call home. Who am I, about to meet myself? This should feel right but something don't."
You might wonder if this opportunity was enough for Annie to live happily ever after. For some, it might be. Annie was grateful for Mr. Stacks but was not thinking to make his home a permanent home for herself. She was set on finding her birthparents. A member of Mr. Stacks' campaign felt the relationship forming between the two was taking away from the coming election. So, he teamed up with Ms. Hannigan to find fake birthparents for Annie. Of course Annie was extremely excited for her dream to come true, but when the day came for her fake parents to take her away from Mr. Stacks, multiple people were hurt, confused, and came to the realization that mistakes were made, and needed to be fixed.
Together at last, together forever.
 Money is a key factor in this musical. Miss Hannigan fosters children so she can receive money from the government, Mr. Stacks' life revolves around being rich, and Annie's fake birthparents agree to take Annie because they are being offered some money. Annie is the one that brings all of these characters together to realize what is more important than money: Family.
In the end, Annie is rescued from her fake birthparents and it seems that there are plans for her to eventually be adopted by Mr. Stacks. In this musical, Annie has traditionally been a Caucasian child; in this film Annie's character is black. I think, especially in today's society it is crucial for families to watch films that incorporate race into character selection. Hollywood movies have created a stereotype for culture but when movies engage in a different culture they have the power to shift behavior. When you watch Annie, it's hard not to feel empathetic towards Annie and her life as a foster child. The viewer's empathy is towards a black girl, which could create more empathy towards the black community. This film was released around the same time as the recent protests for racial equality.
This Annie musical is unique because of the racial changes Gluck chose to make, as well as it being a musical about a foster child trying to figure out where she belongs in the world. How wonderful that not only Annie but also Black and White are in theaters focusing on race and adoption.
Annie is heartwarming. I had happy tears running down my face at the movie theater a few weeks ago. I know it can be hard to adapt to change, especially when Annie has been such a classic for over decades. But I encourage you to take a chance, watch this musical, and be aware of how empathetic you become for the remake of a classic musical.
When I'm stuck with a day that's grey and lonely, I just stick up my chin and grin and say oh the sun will come out tomorrow!
Written By Maya Rogers-Bursen
Boston Post Adoption Resources
Quotes from the musical Annie