Television Show Review: The Fosters
"DNA doesn't make a Family, Love does"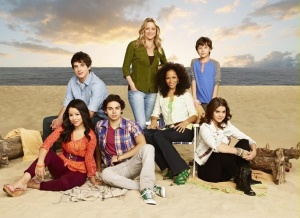 The ABC family hit series, and my personal favorite TV family, The Fosters has not only been renewed for a third season but they hit off their winter premiere on Monday, January 19th. If you haven't seen this show, I encourage you to check it out. The Fosters brings adoption, foster care, and blended families to the forefront of media and helps create a dialogue to normalize these experiences for children and families. Throughout the series there are several values that are vital in keeping these unique individuals connected and strong.
Love
"At the end of the day, who I love shouldn't be an issue for you or anyone else. So yeah, I made a choice. I made a choice to be happy"
Lena and Stef are one of strongest lesbian couples on TV these days. They have created a safe and loving home for their family made up of biological, foster and adopted children. Family is the root of this television show. It shares with viewers that loves is at the core of family.
Diversity
"There's nothing wrong with being different"
Lena was born into a biracial family consisting of her African American mother and Caucasian father. She is also the vice principal at her children's high school, while Stef works as a police officer with her previous husband Mike. Stef and Mike had a son together, Brandon, who is 16. Stef and Lena are foster parents who adopted Latino twins, Jesus and Mariana when they were 11, but have been living with them since the age of 6 and are now 15. Callie (age 16) was released from Juvy into the Adams Foster household. In the pilot episode she runs away to reunite with her younger brother Jude (Age 13) from an abusive foster home. Stef and Lena take both Callie and Jude into their home and later hope to adopt them.
 Inspiration
"The best way to fight back is to rise above"
To the public eye, The Adams Foster family has been very inspiring to all those who relate to the family in one way or another: Adoption, Foster Care, Birth families, Lesbian Couples, Teenage Drama, Divorce and more. Not only does this family inspire viewers, they inspire one another to reach their full potential and dreams. In particular, Jude inspires his sister Callie to get herself together and realize what is most important to her.
Hope
"We love you, and that's never going to change"
For Lena and Stef, being hopeful is what keeps these moms grounded. After all, they are raising five teenagers. Stef and Lena do a very good job at raising each of their children as a part of their family. Throughout the show, each child makes mistakes, but Stef and Lena stay hopeful and supportive mothers. The plot thickens for the Adams Foster family as each episode is released, but the one constant is Love.
Caring
"Sometimes what's right isn't always easy"
Stef and Lena have raised a family of caring individuals. The relationships between each of the siblings are unique. Of course there are disagreements, fights, and mysteries, but in a family of five teenagers that is normal right? Stef and Lena taught their children how to care, and how important it is to be true to yourself. You can tell by watching this family that they strive to become the best individuals they can be, and the only way they can do that is by the support their family gives them. This complex family drama series reminds viewers that no matter what, family always comes first.
We have all been through, or are going through the teenage years consisting of exploring new things and finding our true selves. The Fosters does a spectacular job at showing viewers what it's like to be a teenage adoptee and question your beginnings. This show incorporates the relationships between Mariana and Jesus' birth mother, Callie and Jude's biological fathers, step-siblings, the relationship from Stef's previous marriage, a lesbian marriage, and how all of this and more have created a strong and loving family.
Written By Maya Rogers-Bursen
Boston Post Adoption Resources
Quotes By Characters In The Fosters Episodes