Spring Transitions and Adoption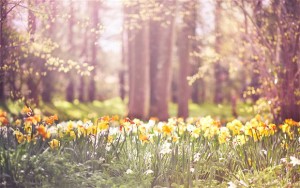 As we've all noticed, spring has sprung. I know, I know. It doesn't really look like it, but it has. Spring brings a plethora of change for everything and everyone. The weather improves (or at least it's supposed to!), birds are chirping, flowers are blooming, and outdoor activities are explored. Let's not forget the Red Sox are back in town! Woohoo!
For many people, the transformation from Winter Wonderland to sunny spring flowerbeds can be a refreshing and welcoming enjoyment. But for others, this change can generate feelings that something big is yet to come. For instance, for many kiddos, teens, and college seniors it's a time when they need to prepare to leave the structure and community their academic settings provide and dash off into new activities, jobs, and many other limitless opportunities.
In general, change is hard for everyone, but for adoptees change and transitions can be more of a struggle, no matter what age. Don't get me wrong, just because your child, friend, or partner may be adopted does not mean that there is something wrong with them. They just need more time to prepare and process the twists and turns of life. During these stress provoking times, it is important to provide support and understanding. Let them know you're there to offer encouragement and strength. Help them build their awareness that change is necessary in life and how it's approached and dealt with, influences their overall feelings and thoughts about it.
In the words of the late David Bowie, "Ch-ch-ch-ch-Changes, turn and face the strange…"
Written by Stephanie Chin, Clinical Intern
Boston Post Adoption Resources