Movie Review – Manchester by the Sea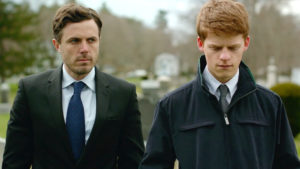 One movie not to be missed this season is Manchester by the Sea by Kenneth Lonergan.  I have so much to say about this film, but I do not want to title this review, "Spoiler Alert," and give away too much information.
Manchester by the Sea touches on, among many themes, adoption and fostering.  After his brother Joe dies suddenly, Lee Chandler, played by Casey Affleck, finds himself the legal guardian of Patrick, his 16-year old nephew.   Lee must move back to his hometown of Manchester by the Sea to care for Patrick. Lee is haunted by a heavy past that he carries with him. Arriving back home triggers intense feelings and complicates his life further. Lee is isolated and self-punishing, depriving himself of anything more than basic needs.
Patrick's mother left him as a child to deal with her substance abuse issues. She steps in briefly but is still incapable of parenting. Patrick, despite his loss of immediate family, is resilient and is able to cope with what life has dealt him.
Manchester By the Sea reminds us of the complexities of life and how hard it can be to move forward when grief, sadness and loss continue to be so raw. Michelle Williams, who plays Lee's ex- wife, brilliantly lets the audience feel the pain, tenderness and love in their intricate relationship.
What makes this movie one-of-a-kind and incredible is Lonergan's ability to convey humor in the face of so much hardship. Snippets of comedy sneak in throughout the movie, and the balance is perfect.
I left the movie with a heavy heart, yet was able to see hope and resilience.  Do not miss Manchester by the Sea.  Do not forget Kleenex.
Written by Jennifer Eckert, LICSW
Boston Post Adoption Resources