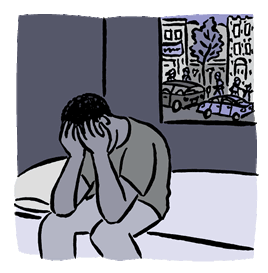 Our hearts go out to the victims' families and loved ones of the tragedy in Orlando this weekend. These senseless acts of violence need to end. We offer our deepest condolences and sympathies and will do whatever we can to provide support and affect change so that we can all live in a safer community.
After a trauma of this magnitude families, friends and communities are left with immense and unexpected loss, shock and grief. Lives are forever altered. Those who were directly involved in this horrific event, will likely develop a traumatic response. It is also important to be aware that it is possible to sustain trauma after witnessing something from a distance. So even for those who were not present in Orlando but have been watching news footage, reading about it or hearing horrific details, it is possible that they sustain a trauma as well.
Traumatic events can disrupt our sense of safety both physiologically and emotionally. It's important to be aware of what to expect, what to do and when to reach out for additional help.
Common reactions to stressful situations: • Fear • Disbelief • Disorientation and numbing • Difficulty making decisions • Need for information • Seeking help for you and your family • Helpfulness to others • Change in appetite and digestive problems • Difficulty in sleeping — Sleeping too much or too little • Headaches • Anger and suspicion • Apathy and depression • Crying • Frustration and feelings of loss of control • Feeling overwhelmed • Moodiness and irritability • Anxiety about the future • Disappointment with and rejection of outside help • Isolating oneself from family, friends, or social activities • Guilt over not being able to prevent the disaster • Domestic violence • Change in daily activities *Information provided by  Riverside Trauma Center
Acknowledge and share your feelings: Feelings can fluctuate rapidly. Talk to a friend or family member or use other outlets such as art making, journaling or writing. These outlets can help to increase self-awareness and help to reduce stress.
Maintain your routine: Try and get enough sleep, eat well and engage in physical activity. These will help decrease stress and help you to better cope. If it feels safe connect to others through physical touch such as hugging. Maintaining a familiar routine will also help to regain a sense of normalcy and control.
Listen empathically: Listen in a non-judgmental way and don't take on the role as the problem solver. Validate the individuals feelings and help them to acknowledge how they are feeling. Do your best not to minimize or downplay their feelings. They are real and they are intense. Lastly, try to be patient and understanding. People who are under stress can be irritable or reactive and may need some time to understand what they are feeling.
Ask for help: Reach out to family, friends, churches, support groups or other community supports that feel safe. If you or someone you know is experiencing intense distress or in need of professional help, seek it out! There are many excellent therapists out there who can help you regain control of your life.
Talk to your kids about trauma: Kids are much more aware than we think. It's important to have resources to talk to them about traumatic events as well. Giving kids information in an age appropriate way can help them feel safe and gain a better understanding of what is happening. Click here for an excellent resource about how to talk to your kids about trauma.
If you or someone you know is in crisis, call 800-273-TALK or 911 immediately.
For crisis support via text message, text LISTEN to 741741. 
Written by our team at BPAR and all of the clinicians at 235 Cypress Street –
Boston Post Adoption Resources