Book Recommendations for Conversations on Puberty and Sex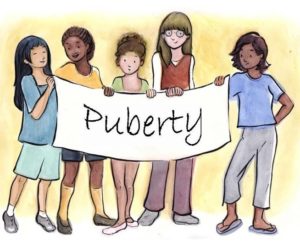 Puberty is complicated. Kids have to deal with many physical changes in their bodies as well as new hormones and emotions. It can be a confusing, awkward and embarrassing time. Parents can help support their kids by helping them stay informed about what it is happening to their bodies. The books below are great resources for talking to kids about puberty and sex.
The Care & Keeping of You 1 by Valorie Lee Schaefer and Josee Masse
This book is part of the American Girl series and is recommended for girls on the cusp of puberty who might not be asking questions yet. It gives a basic explanation of puberty and the changes that occur both physically and hormonally during the process. Topics include hygiene, menstruation, and acne, buying a bra, nutrition, sleep and feelings. The book also includes tips, how-tos and facts with illustrations that are kid-friendly and relatable. The book is a great straightforward guide for any girl in the 8-10 year old range.
The Care & Keeping of You 2 by Dr. Cara Natterson and Josee Masse
This book is the follow up to the first edition in the American Girl series The Care & Keep of You. It is geared for girls who are actively experiencing puberty. The book is structured in a similar way as the first edition however it contains more detailed explanations of the changes in the body, brain and emotions during puberty. This edition also contains information about peer pressure, strategies for managing emotions, building self-esteem, social dynamics of peers and friends.
Talking to your Kids about Sex by Dr. Laura Berman
This is an excellent book for parents to help them tackle the potentially awkward conversations about puberty, sex, and the body. Topics include physical development of girls and boys, the emotional changes that occur during puberty, managing social media, friendships and peer pressure, how to discuss romantic relationships, how to discuss sexual relationships, and talking to your child about safer sex. Each chapter includes a section entitled "Learning Together" which can be looked at with the child and includes step-by-step lesson plans on important topics. The book includes suggestions for "Teachable Moments" to help identify natural moments to bring up these difficult topics.
Written by Kelly DiBenedetto, LMHC, ATR
Boston Post Adoption Resources