BPAR and Nancy Kerrigan to Speak at RESOLVE Infertility Conference
The crisis of infertility can happen to anyone. Nancy Kerrigan is speaking openly about her experience at this year's RESOLVE Fertility Treatment, Donor Choices and Adoption Conference. Infertility is often a silent loss that many experience, but feel they cannot share.  We at BPAR support RESOLVE in empowering families challenged by infertility. You are not alone!
On November 4, 2017, three therapists from BPAR are speaking at the RESOLVE Fertility Treatment, Donor Choices and Adoption Conference in Newton, Massachusetts. Our presentation, titled "The Emotional Journey of Adoption," will help participants understand more about maintaining emotional health during the entire adoption journey, for both parents and children. This includes how to talk to your child about how your family was built and what to expect at each developmental stage.
What is RESOLVE?
RESOLVE is an agency personally committed to supporting the community around issues involving infertility.  Their mission includes education and exploration of the medical, emotional, and legal aspects of infertility, donor options, adoption, and other family-building choices.
Why is RESOLVE important
?
They are huge

advocates

of connecting people to resources around infertility.

They understand the grief and loss associated with infertility and offer valuable support and services, including:

educational programs;
support groups throughout the year;
full-day Adoption and Donor Egg Connect & Learn Seminars;
Annual Fertility Treatment and Adoption Choices Conference in November (the largest consumer fertility conference of its kind in the United States!)
Why is BPAR connected to RESOLVE?
BPAR is committed to providing resources to our community, including supporting individuals and families experiencing infertility and considering adoption. RESOLVE provides resources on other family building options, and we serve as a community partner to help educate potential adoptive parents about adoption as a lifelong journey.
If you know anyone who can benefit from this conference, please share this information, with our thanks.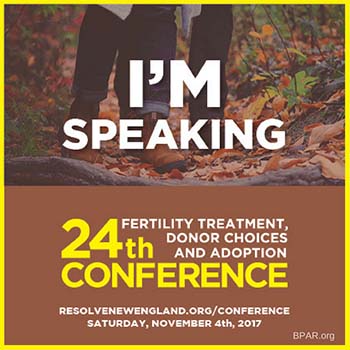 "The Emotional Journey of Adoption" will be presented by: K.C. Craig, LICSW, Boston Post Adoption Resources (BPAR), Kelly DiBenedetto, LMHC, BPAR, co-author of "Adoption is a Lifelong Journey," and Katie Gorczyca, MA, BPAR, co-author of "Adoption is a Lifelong Journey."
General conference link: https://www.resolvenewengland.org/conference/
Link to brochure (lists time of talks): https://www.resolvenewengland.org/wp-content/uploads/2017/09/Conf2017Brochure.pdf