Folk Singer Jonathan Edwards Shares His Story as a Birth Father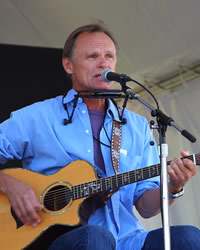 BPAR is so grateful to have connected with Jonathan Edwards, folk singer extraordinaire. Not only is Jonathan an incredible singer and song writer, he is also a generous, thoughtful, and introspective performer who has written and performed a song about his own personal experience with adoption.  This song, "One Day Closer," was written about his reunion with his daughter Brenda, who he placed for adoption when he was in college. She sings on this song with him. Below, Jonathan shares with us the story behind this powerful song.
An Adoption Story
by Jonathan Edwards
When my girlfriend and I were in college, we became pregnant and having NO idea what to do with a child, we offered our daughter up for adoption soon after she was born. We always kept our addresses and phone numbers updated in her file if she ever wanted to look us up and meet us. Well, when she was 22, Brenda made contact and I'm so grateful and thankful that she's been a huge part of our lives and has occupied a lovely warm place in our hearts ever since.
We first talked on the phone and agreed to meet ASAP. She was on the next plane from L.A. to D.C. where I was living at the time and I went to meet her flight. The very last person off the plane was this beautiful blonde young lady in a long flowered skirt and a big straw hat, carrying a little pink balloon that said, "It's A Girl!" I knew from that moment that our senses of humor and so much else would be completely in sync and worthy of a long and lasting, unconditionally loving relationship. That has happily proven to be the case.
I also had a hunch that she might be musically inclined and so into the studio we went to see what might be possible. She turns out to have an excellent and skillfully soulful voice and it's that voice you hear in the harmony on this title song of one of my favorite albums. We have had the pleasure of performing this song and many others all over the country and I eagerly await our next opportunity.  She is a loving wife and mother of two beautiful teenage daughters and I'm so glad she's in my life and such an important part of my world. Thanks, Brenda, for making that call!
—JONATHAN EDWARDS, GUEST BLOGGER