Book Review: Twenty Things Adopted Children Wish Their Adoptive Parents Knew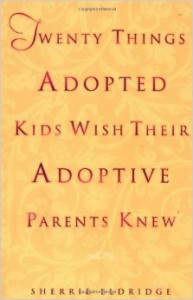 Sherrie Eldridge is an esteemed and well known author, speaker, trainer, and adoptee in the adoption community. Her first book, Twenty Things Adopted Children Wish Their Adoptive Parents Knew is Eldridge's distinctive process of connecting adoptive parents to their adopted children. Here, Eldridge provides the adoptive parents and family an opportunity to see the world from the perspective of the adopted child. This book allows for issues that are particular to the adoptee experience to come to light, such as adoptee grief, anger, mourning, shame, and self-identity.
Not only does Eldridge supply her own personal stories as an adoptee, but also utilizes research and other notable works to support her knowledge. Her messages may be research-based, but her communication is delivered in an empathetic, sincere, and honest approach that does not villainize any party involved with adoption. This is a guide to understanding what it may mean to be an adoptee and an adoptive parent. It bridges the gap that may be felt within this dynamic.
Although the title of her book implies it is primarily for prospective or current adoptive families, that is not completely the case. As an adoptee myself, I find that I was able to relate to many of the topics that Eldridge included. This book may offer some additional insight to adoptees who seek closure on their own adoption story and experience.
Written by Stephanie Chin, Clinical Intern
Boston Post Adoption Resources