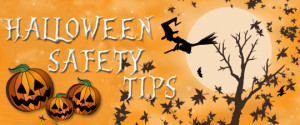 Halloween is a night of thrills, surprises and fun! Kids get to take the night off from being themselves in order to be someone else while they collect candy with their friends and family. Since it is such a popular night to be out and about it's not so surprising that on average, children are more than twice as likely to be hit by a car and killed on Halloween than on any other day of the year *. In order to keep your holiday fun and safe follow these Halloween safety tips:
For Kids:
Use reflective stickers and tape on bags and costumes and carry a flashlight. Have kids carry glowsticks but remind younger children not to chew them! You can also download a flashlight app for free on your phone!
Try to incorporate light and bright colors onto parts of costumes so they are more visible.
Walk on sidewalks and be sure to use traffic signals and crosswalks. If there is no sidewalk, walk facing traffic as far to the left as possible! Halloween can be really exciting so make sure to remind your child to look both ways before crossing the street!
Beware of masks or other costumes that make it difficult for children to see – try and avoid these by using facepaint or have your child keep the mask up while they walk. Also be careful of oversized costumes – it can be easy for kids to trip. Try to make sure everything they are wearing fits well
Never enter a strangers home without your parents permission!
For Adults:
Stay off your phone! With so many people out and about it's important to be extra alert to your child and your surroundings. Obviously you want to share those amazing pictures with your friends and family but wait till your home safe before posting online!
If your child is under 12 years old make sure he or she is with an adult.
If your child is over 12 make sure you know who they are going to be with and have them check in throughout the evening!
If you are driving on Halloween night turn your headlights on early, drive slow and be extra alert for kids!
Always check the candy for any signs of tampering before you let your kids dive in (and make sure you take a few pieces for yourself!)
If you are out with a group make sure you do a head count before moving on to the next house!
 Written by Kelly DiBenedetto, LMHC
Boston Post Adoption Resources
* Statistics provided by: https://www.safekids.org/halloween