Book Review: Building the Bonds of Attachment: Awakening love in deeply troubled children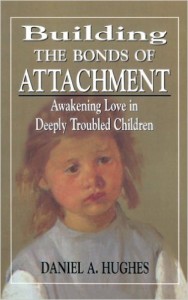 Building the Bonds of Attachment by Daniel A. Hugues is a unique perspective into the life of a child who is diagnosed with Reactive Attachment Disorder. Not only does it follow the perspective of the child but it also brings in the experience of the therapist, foster parent and social worker. Building the Bonds of Attachment follows the story of Katie, a fictional character who is removed from her birth family after years of neglect, emotional abuse and multiple incidents of physical abuse. She is placed in several different foster homes that are unable to meet her needs until she is finally placed with Jackie, who is trained and experienced in working with children who have been traumatized.
We are introduced to Stephen, Katie's social worker who cares deeply about Katie's well being. In his time working with Katie he recognizes through having his own child the importance of early attachment and how Katie's trauma has impacted her ability to trust, feel safe and have a healthy sense of her self. We also meet Allison, Katie's therapist who provides her with a safe but intense treatment approach to help her build an attachment to Jackie by working through her past traumas. We get an in depth perspective into Jackie, who is an incredibly strong and caring person. Her training with Allison has taught her to parent with The Attitude, which is based on playfulness, acceptance, curiosity and empathy. This attitude allows Jackie to have a real empathetic understanding to what Katie is feeling and experiencing, allowing her to respond with playfulness and empathy rather than in a punitive manner.
This book is highly recommended for any caregiver, therapist, or social worker who is caring for a child with attachment challenges. Although it is difficult to read about the trauma that Katie experienced, the story does give hope that these children can learn to attach and experience a healthy life. The book also includes helpful information regarding children's development, suggestions for how to incorporate The Attitude as caregiver, and other resources about attachment.
Written by Kelly DiBenedetto, LMHC, ATR
Boston Post Adoption Resources