Happy Lunar (Chinese) New Year!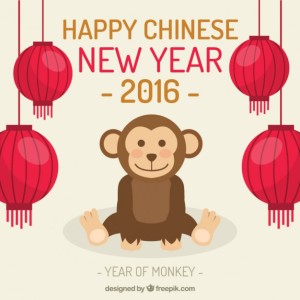 The Chinese New Year or the Year of the Red Monkey began this past Monday on February the 8th. This is the time of year for families to come together in order to celebrate the "old" year of hard work and wish for a prosperous and successful new year. Chinese festivals and parades are held all over the world. These typically include the renowned Lion Dances, firecrackers, giving/receiving red envelopes, and traditional Chinese decorations. In Boston's Chinatown, the parade will be held this Sunday, February 14th, followed by a cultural festival. For those who are interested in the Boston Chinese New Year Events, please click this link for further information click here.
For those who can't make it to the festivities or just want to try something new, I suggest making an Asian inspired meal. Chinese New Year dinners are considered to be the most important meal of the year and are often termed "reunion dinners" because of the many generations of family that meet up at this one time. Creating a meal with your family members or close friends, both young and old, can be a positive event where you are all able to feel connected in a shared experience. Whether your meal comes out tasting delicious or not up to your expectations (leading to ordering take-out), you will be sure to have a fun and enjoyable story to retell amongst family and friends. For a recipe idea click here!
Written by Stephanie Chin, Clinical Intern
Boston Post Adoption Resources