Book Review – BEFORE WE WERE YOURS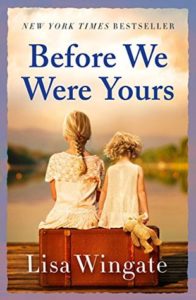 "Before We Were Yours," by former journalist Lisa Wingate, is a novel that is based on real life events that occurred in Memphis, Tennessee. This is an adult book with themes of abuse and violence. There may be some spoilers in this review, although I tried to avoid them. And, despite some of the predictability of the plot, it is worth the read!
I laughed, I cried, I stayed up well into the night with this book. This is a must read; a heartbreaking yet illuminating story about the strong bond between adoptees and their birth families. The story centers around two main characters and moves back and forth between the past and present day. Rill, the oldest of five children living in Memphis in 1939, lives with her parents in a shanty boat on the Mississippi River. The family lives a simple yet magical life on board their boat until a traumatic event occurs. The family is separated and the children are taken to a children's welfare home.  The second major character, Avery, is a present day successful lawyer with a philanthropist's heart. She is a part of a prestigious family in the South, and has recently returned home to help her ailing father and prep for his seat in the Senate. While home, an encounter uncovers information and secrets about her family's history.
ADOPTION AND SECRETS
The heartbreaking story of Rill and the separation of her family is based on one of the South's real-life scandals. Georgia Tann, the director of a Memphis-based adoption organization, kidnapped and sold poor children to wealthy families all over the country in the 1930s and 1940s. Lisa Wingate has masterfully created a heart-wrenching yet inspiring book with themes around adoption and reunion from this difficult time period. These illegal adoptions were closed adoptions and full of secrecy and shame. Although these themes are often so hard to read, it is interesting to compare the differences between adoptions during this time in history and to see how far the adoption world and our culture has come in removing the secrets around adoption. The children's foster care placements were actually at the  "adoption agency" where they lived until they were adopted. This, I believe, is the most painful part of the book to read because of the conditions described.
IDENTITY
One of the most artful pieces of this novel is the way the characters in the story are so interwoven. The stories mirror the identity work that so many of our BPAR clients embark on as they explore their complicated adoption histories and learn how their own personal story has shaped them throughout their lives. In a similar manner, the characters in this novel poignantly struggle with the accommodation and assimilation of two different personas. The novel demonstrates that adoptees of all ages feel they are made of two parts, the part of the them that they identify with their current life and their adoptive parents, and the part of them connected to their history and their birth parents. The book highlights the theme of identity, not only during childhood, but throughout the entire lifespan.
BIRTH SIBLINGS
This is a unique adoption story for it depicts several biological siblings being separated and adopted by multiple families. Although the book is fiction, we know that biological siblings are often separated in the current foster care system. This can present challenges for children of all ages, and a whole different perspective on loss. At BPAR, we often see children struggle with the loss of biological and foster care siblings. We also see the powerful and healing bonds during the reunion of birth siblings.
BIRTH SEARCH
This novel is relevant culturally regarding the recent popularity of 23andMe and Ancestry(dot)com. One of my favorite parts was the "lone crusader" character, adopted as a child, who attempts to reunite birth siblings and families and gather information for the individuals about their life stories. This character's passion to help other adoptees find their stories and their histories is inspiring, and true to the deep bond adoptees often seek with their roots and their birth families.
The book's format, alternating between characters and time, will keep readers engaged and eager to turn its pages. This book is suitable for adults interested in learning more about this notorious time period. Given the nature of the book's topics, this book may evoke powerful feelings for individuals whose stories resonate or for anyone connected to adoption.
Written by KC Craig, LICSW
Boston Post Adoption Resources