South Korean Birth Mothers — Their Invisible Heartache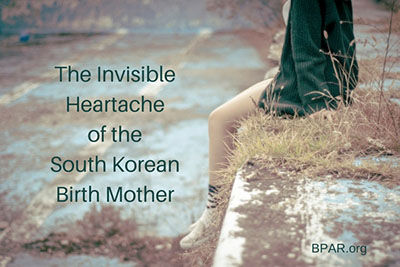 Michelle (Seungmi) Lee, an international student originally from Seoul, South Korea, shares her insights into the cultural norms that shape the lives of South Korean birth mothers. Currently an intern at Boston Post Adoption Resources (BPAR), Michelle is pursuing a Master's Degree at the Lynch School of Education at Boston College for Applied Developmental and Educational Psychology.
---
South Korean birth mothers face unique challenges when they decide to place their child up for adoption. I was born in Korea, a country with a culture that clashes between ancient Confucius traditions and Western capitalist ambition. Yet, I lived almost half my life in the United States, a nation consisting of a melting pot of cultures, a land of opportunities and a land that gave me a voice. Throughout my life, being immersed in two cultures has allowed me to empathize and understand the perspective of Korean birth mothers.
Women who become pregnant out of wedlock in South Korea face much stigmatization. Not only is conversation about sex a taboo but the society in general turns a blind eye to men's abuse of women's sexual rights.  It is not surprising that unwed Korean women often get pregnant. However, the stigma of having a baby out of wedlock is huge. Members of their community ostracize them by gossiping about them, telling families not to talk to them and treating them negatively. As a result of this, a pregnant women often tries to hide her pregnancy or runs away from home.
Once pregnant, these mothers often have a limited amount of options. If their parent or partner is financially stable, they can get married and start a family much earlier than they expected. If they can't make ends meet, they can travel to a rural town out of the city for an illegal abortion. They can relinquish the child for adoption to an adoption agency. Lastly, they sometimes make the heart wrenching decision to abandon their infants somewhere in the city with the hope that someone will hear the baby crying.
Often, when the Korean mother decides to keep her child despite the father being out of the picture, the maternal grandparents of the child coerce the mother to give it up for adoption. If she does not give the baby up for adoption, the Korean mother's support system is severed. She is no longer considered part of the family anymore. The stigma surrounding single mothers makes it almost impossible for them to function normally within Korean society. Many are not able to find a job because of their single mother status. Despite the Korean government providing money for new mothers as a way to target the low birthrate issue, such support is not provided for single mothers. Single mothers are denied access to such money because they are not in a stable relationship with the child's father. Even within the realm of social welfare, domestic adoptive families get higher stipends than single mothers, as a way to coerce single mothers to relinquish their child for adoption. So, without the support from family members and government services, these mothers are stuck with the painful dilemma of wanting to keep their babies but feeling as if they cannot provide them a stable home. Often the government and family members use this to their advantage in coercing the birth mother to relinquish her child.
Written by Michelle (Seungmi) Lee, Intern
Boston Post Adoption Resources
A Special Note from BPAR
At BPAR, it is important to us to share the perspective of every individual in the adoption triad.  If you would like to learn more about Korean birth mothers, we recommend the book, "I Wish for You a Beautiful Life" edited by Sara Dorow.  This book is a collection of letters written by Korean birth mothers to their children.  In Korea, these women are silenced and discouraged from speaking  about their painful experience of loss. This book gives them voice. The letters provide a poignant glimpse into the heartbreak that these mothers feel upon placing their child up for adoption:
"I hope you will remember that every decision I made, I made for you. I don't think the reason that I placed you for adoption was because I didn't love you. It was really a hard decision for me, but I think my decision was right for you. Please don't forget that I love you, I'll love you and worry about you forever. Nothing can change my mind about you."

—Excerpt from a mother's letter in "I Wish for you a Beautiful Life"