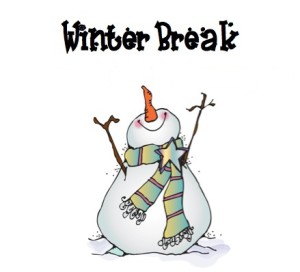 Winter break provides an opportunity to ditch the normal routine and have some fun. After all of the spending that comes with the holidays it may not be financially possible to take an elaborate trip or getaway. The idea of sitting at home with kids with a whole lot of time on their hands can seem daunting! If a winter staycation is in your cards this year, here are some great ideas to keep your little ones busy!
Explore your local state or national parks. If you live in a snowy area, then try cross-country skiing, snowmobiling or snowshoeing.
Visit local museums or historical societies.
Try Geocaching. According to their website "Geocaching is a real-world, outdoor treasure hunting game using GPS-enabled devices. Participants navigate to a specific set of coordinates an then attempt to find the geocache hidden at that location." To find out more click here!
Try new recipes.
Go ice-skating. Some rinks offer free open skating times! check it out here!
Stock up on some books from your local library you've been wanting to read
Go Swimming. Many community centers offer free public swimming times. You can also call hotels too!
Do a craft project you've been thinking about trying.
Find some indoor fun like bowling or miniature golf.
Go to your local botanical garden. Most cities and many universities will have a conservatory or greenhouse you can visit. Inside the air is hot, tropical and filled with lush plants and flowers. This is one of my favorite wintertime activities!
Go on a winter hike.
Have a movie marathon. Pick a theme and have each family member pick out a movie! Provide snacks and blankets!
Redecorate your kids bedrooms.
Have a dance party!
Visit a family member or friend with whom you don't usually get to spend time!
Go roller skating!
Take a Mystery drive! Everyone in the car gets to pick a location and whispers it to the driver. You can set parameters around distances or whether or not the activity can include spending money. After you reach a destination the next person gets to whisper to the driver where they want to go!
If you are in Boston go check out Blink, a free light and sound show in Faneuil hall.
Take the kids to  5-wits for an interactive fun experience!
Put on a play or make a movie!
Written by Kelly DiBenedetto, LMHC
Boston Post Adoption Resources