As the end of the school year approaches and we prepare for the summer season, some parents and students like to give their teacher an end-of-year gift in recognition of all the hard work and dedication the teacher has given in helping their students learn and grow. Maybe you have the perfect gift in mind, or maybe you're having trouble coming up with something that feels meaningful. Our book, Adoption Is a Lifelong Journey, makes a great gift for teachers and could be what you choose to give this year!
School is a big part of any child's life, and it's important for teachers to have some understanding around how their students, some of whom are adopted, might be feeling. Starting at a young age, children encounter questions from curious peers about family, and it is important that adoptees feel empowered and confident when faced with questions. Many times these interactions take place at school. Giving teachers a resource like Adoption Is a Lifelong Journey can provide an added awareness of what might come up for children and the potential challenges they may face in school.
In addition to social interactions with peers, schoolwork is another area of the classroom where a child adoptee's experience might have an impact. It is not uncommon for school assignments to involve family members or family history. Biology, genetics, family trees and family interview projects are just a few examples of assignments that ask children to gather information about where they came from. What might feel like a seemingly harmless assignment for some children is a complicated mystery for children, like adoptees or kids in foster care, who do not have information about their biological families.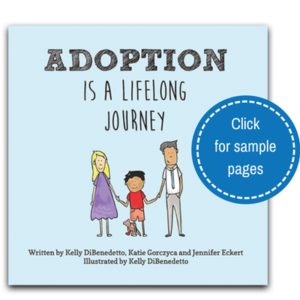 Our book serves as a great resource for adults, including teachers and other professionals, to gain insight into the experience of an adoptee for better understanding, and provides suggestions and resources for ways to offer support. Not only is the book great for children to read with parents, but several of the topics explored in the book include expansions that are appropriate for professionals such as teachers. These expansions have recommendations, things to think about, and suggested resources for even more information on a given topic that can provide teachers with new perspectives into a child's behaviors.
By giving a teacher this book, you are empowering children, engaging adults, and offering an open space for safe communication. We know your child's teacher will appreciate the meaning and purpose behind the gift!
For more information about our book and to purchase, click here.
Written by Katie Gorczyca, MA, Expressive Therapist
Boston Post Adoption Resources