Making Time for the Important Things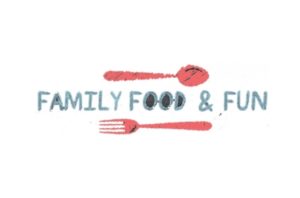 It's Sunday – early afternoon. I am standing in my parents' kitchen in comfy clothes and socks as the warm light shines in through the window. I'm working on one counter – chopping away at the broccoli and potatoes that we will later roast with dinner.  My mom is working on another counter next to me. I hear the whirl of the mixer going round and round as she gently adds in the ingredients one by one for a special request blueberry birthday cake. The smell of roasted butternut squash with cinnamon fills the kitchen and the onions on the stove that have been caramelizing for over an hour are beginning to look absolutely perfect. My sister joins us in the kitchen, catching us up on things that have been going on in her week.  We are all in it together.
As the day goes on my other siblings arrive with their kids. My nieces and nephews spring out of their cars and come bounding into the house. They are met with exuberant greetings of "hellos!" and high-fives, hugs, kisses, and excitement over the day ahead! They share their joys of the week and new things they've learned as they strip off their shoes and run full speed ahead into the other room together. They are all in it together.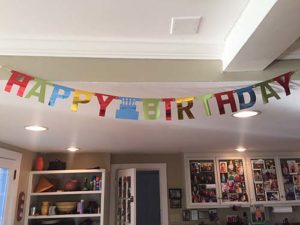 A "Happy Birthday" sign hangs in the entryway to the kitchen. It's been there for over a year. There are so many people in my family that we have decided to just keep the sign up because we are more often than not celebrating a birthday.  Even when there is no birthday, we gather. We are all in it together.
It's Sunday – we gather. We create memories and have created this tradition together. We choose to be together. And you can, too. No matter what you have been through in your life, or how your family is formed, you have the ability to create a life that you want. You get to make choices and decide who to spend your time with. You get to decide what is important to you and your life.  You get to start traditions with your kids and help them see what is important in life.
No family is perfect, including mine. We fight, the kids have meltdowns, we annoy each other and we take weeks off from Sundays. But no matter what – we are all in it together.
Written by Kelly DiBenedetto, LMHC, ATR
Boston Post Adoption Resources
Read Kelly's blog "Baking As Therapy!"