Goodbye School Hello Loss: The Adoptee and End of Year Transition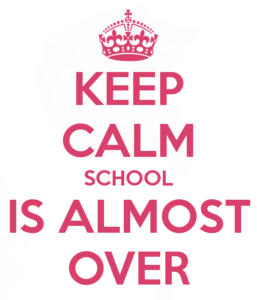 Spring is here. It is finally starting to warm up. The birds are chirping, the days are getting longer and everyone is starting to spend more time outside. This transition to spring is a natural reminder about beginnings and endings. For the adoptee this can be an especially sensitive and challenging time. Having to say goodbye to teachers and friends can bring up feelings of loss. The structure, containment and predictability of school often provide a sense of safety and letting go of it can be very triggering, making a child feel out of control.
Children in foster care might not know what school they will be attending next year. Others might know exactly what school they are going to be in but don't want to attend it. This can lead to low motivation, acting out behaviors in the classroom and at home and can make for a very difficult time for the whole family. Here are a few things to keep in mind to potentially make this transition smoother.
Expect it to be difficult: If this is typically a difficult time for your child then expect it to be. Be proactive and plan accordingly. Remind your child that historically ending school has been difficult. Help them to talk about how they are feeling. Encourage them to express themselves through journaling, music, art, or talking to a trusting and safe adult. If they are particularly connected to one teacher then encourage them to write a letter or draw a picture to say goodbye.
Plan your own self-care: As a parent it is extremely important to plan and integrate your own self-care routine. It is not selfish – it's imperative! Parents put their kids first – they have to in order to be good parents. But that does not mean that they don't need to take care of themselves. As you start any airplane ride the flight attendant reminds passengers that in the event of emergency always put your own mask on before helping others. If you are completely burnt out and stressed you are not going to be helpful to your kids. You are not going to be the parent that you want to be. Find things even if they are small that are reenergizing to you and incorporate them regularly into your routine.
Create your own structure and routine: Many of the kids that we see at BPAR thrive with structure and predictability. Make sure our child knows the after school routine, and is aware of any play dates or appointments. This will help with times when he or she wants to stay after school to play instead of heading to the activity they need to attend. Think about the summer and type of structure you might provide – day camps, sleep away camps, part time jobs, volunteer opportunities, family vacations. Try and get creative! Have kids write a poem every day, sign up for a family race that you can all do together, have them come up with ideas of things they would like to do over the summer. The more ideas you can have on the back burner the better!
Minimize additional stressors: As much as you can, try to eliminate any unnecessary stressors for your child. For example, if your child typically struggles after a visit with a birth family member then it might be best to hold off until school is over. If this is not an option then make sure you have professional supports to help you and your child process the experience. At BPAR we also see many adoptees that experience intense anxiety when they separate from their parents. If you have any tasks that are geared towards independence or individuation (i.e. getting your child to sleep by him or herself) it's okay to delay this until you have more time and energy to help your child. The end of school year transition is difficult enough – try and just focus on getting through is before you take on any additional challenges.
Written by Kelly DiBenedetto, LMHC, ATR
Boston Post Adoption Resources