Feelings Cards: A Great Tool For Kids and Families!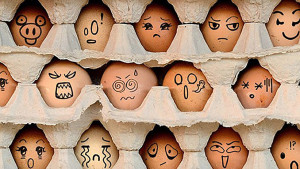 Feelings are a very important part of being human. They help us make sense of our selves and the world around us. Having the right tools and words to express our selves is vital to healthy relationships. Studies have proven that expressing feelings can reduce anxiety, depression and build self-esteem. Learning how to express feelings can be difficult, especially for children. Some lack the vocabulary, some are unsure of how they are feeling and some can just be shy about expressing themselves.
A great way to help children learn about feelings is to make "Feelings Cards". All you need are a pack of index cards and a pen or marker! Write a feeling on one side of the card – feel free to get as creative as you want (i.e. draw a picture that matches the feeling, use colors that match the feeling or write out other words that are similar to the feeling). Each day as children learn or remember more feelings, they can continue to make new cards. Setting aside a time each day to do this works best. Perhaps after dinner family members can add additional feelings cards to the deck.
Kids are like sponges – they learn by watching and soaking up everything they hear and see. Pick a time of day where you can sit down together and have each family member share a high and low of the day and a feeling card that matches the event. For example: " I felt happy and relieved that I got an A on the math test that I studied hard for" or " School is ending and I am feeling sad and overwhelmed about saying good bye to my teachers and friends."
Another way to use the cards is by playing feeling cards charades. Have your child pick a card and act out the feeling from the card. You could also have teams and tell a story based on the feelings cards chosen. Feel free to add drawings of the feelings to mix it up!
Encourage children to make up their own games with the cards or make one up with your child. Feel overwhelmed by all of this? No worries! Feelings Cards are also sold online on Amazon or educational games sites.
Written by Jennifer Eckert, LICSW
Boston Post Adoption Resources