Documentary Review: Stuck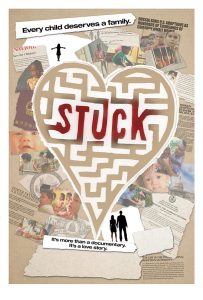 Stuck is a well-made, must-see documentary written by Jennifer Latham and directed by Thaddaeus Scheel, which follows three American families on their complicated journey to adopt children from Haiti, Ethiopia and Vietnam. The film not only explores the over arching joys of adoption, but it focuses on the corruption, greed and politics that plague the international adoption process. Although the film shares three stories of determination, strength, and the courage it takes to face the system in order to start a family, it also highlights the negative impact the families and children face while they wait for the adoption to be finalized.
According to the film, the current adoption process for international adoption takes nearly 3 years, which is 896 days. This is an extremely long time for both parent and child to wait especially when the families have already been matched. During this time the child remains in the orphanage with conditions that are unhealthy and can negatively impact the child's physical and mental health. One of the most difficult parts of this to comprehend as that these children have adoptive families that they should be living with however there are barriers, restrictions, and discriminatory rules that prevent this process from happening timely. As a result the families and children suffer.
Over the past 5 years the number of children adopted into the United States has plummeted by 50 percent. This leaves an unbearable amount of children with fewer options for a healthy and productive life. There are currently over 10 million children in orphanges around the world – children who need homes, families and love. This has become a horribly negative system that needs to be changed.