Book Review – The Graveyard Book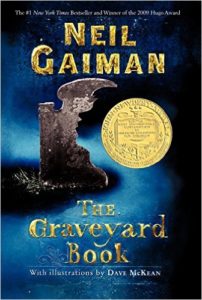 The Graveyard Book, a Newbery Medal-winning children's novel written by Neil Gaiman, can be a great adult read for adoptive parents.  The story starts when an infant is adopted by ghosts who always wanted children. His adoptive mother, who happens to be a friendly ghost, has an immediate connection to him and adopts him and keeps him safe.  The book is unique in that it set in a graveyard and the boy, Bod, is adopted by all the ghosts who care for him and keep him away from danger as he grows into his teen years.  Young kids might find some parts of the book are scary, but for adults, the message about adoption is clear:  The love from an adoptive parent is powerful and real.  At times, that love can even be painful for parents, especially when children leave the home.
The Graveyard Book runs parallel themes with a coming-of-age story and inadvertently depicts a parenting journey.  The author talks about parents' wishes for their child to have everything in the world they desire, and their fight to keep the child safe, only to then have to release the child to the world.
The mother sings to the child (now an older teen ready to leave the safety of the graveyard and enter the world):
"Sleep my little baby-oh
Sleep until you waken
When you wake you'll see the world
If I'm not mistaken…

"Kiss a lover
Dance a measure,
Find your name
And buried treasure…

"Face your life
Its pain,
Its pleasure,
Leave no path untaken."
A great read.
Written by KC Craig, LICSW
Boston Post Adoption Resources
Song quoted from The Graveyard Book, written by Neil Gaiman and illustrated by Dave McKean