How to Write a Book – a Look Behind the Scenes
How do three people collaborate on a book?  We thought it would be fun to do an author Q&A so you can see how much we enjoyed working together on  Adoption Is a Lifelong Journey — and how we think alike!  Enjoy!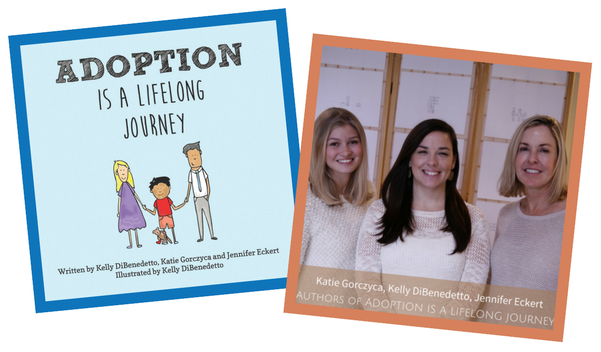 1. Why did you decide to write Adoption Is a Lifelong Journey?
Jen:
Kelly, Katie and I have talked about writing a book for a while. As therapists working with children who have been adopted or are in foster care, we strive to help families communicate better and are always trying to think outside of the box to make this happen. We wanted to write a book from a child's perspective that could explain to others what that child was feeling.
Kelly:
We thought it would be great for BPAR to have our own resource to give to clients. Most parents just want to know that their kids are okay. We're hoping that Adoption Is a Lifelong Journey helps to normalize many of the common themes we see in adoption. We also hope it helps parents to know that if their kiddo isn't okay and needs help, that's okay too!
2. Why did you choose the approach and format that you did?
Katie:
In the early stages of creating this book, we knew we wanted to write from the child's perspective.  We wanted to give the child a voice, since many times a child will engage in behaviors that will leave parents and other adults confused, when if you put on an adoption lens, it actually makes perfect sense.  We wanted to normalize what the child may be feeling as well as what the caregiver may be observing.  We wanted the book to feel approachable and strength-based, since this is how we operate at BPAR.
Kelly:
I knew I wanted to create illustrations that would make the book kid friendly and adult friendly. I wanted it to feel warm and for readers to get attached to the characters. There are so many feelings involved in adoption – I guess we are hoping to really help the reader feel what the adoptee does! When I look for books (and yes I read books without pictures ) I always look for titles and covers that are appealing to me. So even if this book primarily speaks to adults, we hope the drawings are captivating enough that they make the adult want to pick it up and learn more.
Jen:
It was very important to us that the book was understandable to all ages. We wanted to use a format that a parent and a child could read together, yet we also wanted to be able to help educate parents and caregivers with additional information for each page. We linked the illustrated pages to the "Putting the Pieces Together" section at the back so we could offer related insights and resources for parents and caregivers who want to learn more.
3. What was it like to collaborate as three authors?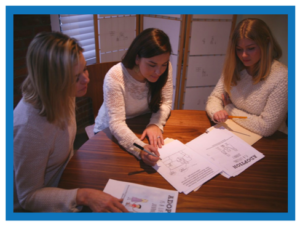 Katie:
As we brainstormed about how we wanted our book to look and feel, Kelly and I discovered the image we had in our minds happened to be inspired from the same place: a book that both of our mothers had shared with us as children, and is no longer in print, called Listening to the Littlest by Ruth Reardon. Our synchronicity was uplifting and motivating. We began by simply writing out topics that we wanted to include in the book; the topics were specifically geared towards common themes we notice in our therapeutic work with adoptive families. Once we had a thorough list, we wrote about each topic from the adopted child's perspective, with the child's voice.
Jen:
The most rewarding piece of working on this book is how we all thought alike as we considered how the book should look, how it can best be used, and what are the most important points it should address.
4. How is your book fresh and unique? What gap or need does your book fill?
Jen:
I think our book gives parents and caregivers a tool to open discussions about adoption, feelings and information about the child's beginnings. I believe it is appropriate for all ages and even those who are not familiar with the world of adoption would get a good understanding of adoption after reading the book.
Katie:
Our book is unique because it normalizes and empowers children who are adopted.  Our book educates adults while reaching those who have been adopted in a respectful and caring way.
Kelly:
I don't think there is a book like this out there. Parents don't have a lot of time to read. They are tired. I think this will be an easy quick start guide to get them started thinking about their own situation.
Jen:
What I also like about the book is that you can pick it up later and something else will strike you or give you an "ah ha" moment.
5. What are readers saying about Adoption Is a Lifelong Journey so far?
Kelly:
Everyone I've shown it to has loved it. Colleagues talk about how helpful it will be for themselves and for clients. Kids — teens and younger — talk about how much they love the illustrations and how cute they are. People keep saying that I should be proud and that this is a very special and unique book.
Katie:
We have received great reactions so far.  People love the illustrations, especially Charlie's teddy bear.  People also feel like they can resonate with Charlie, as he acknowledges feelings that can be hard to describe for many.  People have also shared how great the recommendations in the back of the book are, and how helpful they can see it being for parents.
Jen:
We have had many positive reactions about the book and its format. We hear that it is very user friendly, understandable, and normalizes how the child is feeling. My favorite: "It takes a complex subject and makes it understandable to all."
***
Adoption Is a Lifelong Journey is available in paperback and ebook format on Amazon.com. Look out for the kindle edition coming soon!  BPAR devotes all proceeds to its mission to support and provide resources to anyone touched by adoption.