Sharing LGBTQ Resources with Pride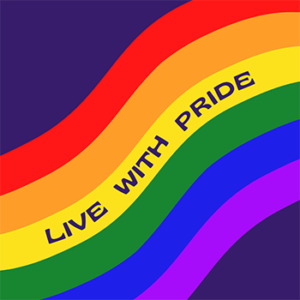 In honor of PRIDE month, we wanted to take a moment to highlight some important resources to help support the LGBTQIA individuals and families in the post-adoption community. It is our mission to provide support, resources and education so that everyone in the adoption constellation can feel safe and valued and be able to live healthy, productive lives. We also know that as providers, it is our responsibility to continue to educate ourselves and build our clinical and non-clinical resources for our community.
Below is a list of recommended resources compiled by our clinicians. Additionally, we are excited to be able to offer an LGBTQIA adult adoptee support group in the Fall (subscribe to BPAR's newsletter or check our Group Therapy page later this summer for details!).
LGBTQIA Resources
Fenway Health — The mission of Fenway Health is to advocate for and deliver innovative, equitable, accessible health care, supportive services, and transformative research and education. "We center LGBTQIA+ people, BIPOC individuals, and other underserved communities to enable our local, national, and global neighbors to flourish."  Website link
OUT MetroWest — OUT MetroWest builds communities where LGBTQ+ youth thrive. We offer multiple programs each week for LGBTQ+ youth as well as programs for families and educational offerings for the community.  Website link
Gender Spectrum — Organization that provides support and resources to parents and families of LGBTQ+ children. Website link
Family Acceptance Project — Resources/training for families, providers, etc.  Website link
GeMS (Gender Multispecialty Service) – This program, located at Children's Hospital, provides individualized, safe, and affirmative care to gender-diverse and transgender individuals ages 3 – 25 and their families. The program takes a team approach and provides a variety of services including primary care, medical support, individual, family and group therapy, and school support. Website link
Kaleidoscope, serving LGBTQ+ children, youth, young adults, and their families -. Program also specializes in working with individuals with Autism Spectrum Disorder, ADHD, LD, and social and emotional challenges and their families.  Website link
Scarleteen — Sex education "for the real world."  Website link
AMAZE — "AMAZE takes the awkward out of sex ed. Real info in fun, animated videos that give you all the answers you actually want to know about sex, your body and relationships."  Website link
The Trevor Project — "Founded in 1998 by the creators of the Academy Award®-winning short film TREVOR, The Trevor Project is the leading national organization providing crisis intervention and suicide prevention services to lesbian, gay, bisexual, transgender, queer & questioning (LGBTQ) young people under 25."  Website link
Dr. Sharon Saline — Dr. Saline discusses parenting children and youth with ADHD, exploring their gender and sexuality.   Website link
Trans-Parenting — Trans-Parenting is an organization dedicated to providing support and educational resources to parents and their advocates (pediatricians, mental health professionals, lawyers, schools, friends, family, and churches) for raising a gender-independent child.  Website link
ADD and Gender — ADDitude magazine explores the relationship between ADD and gender.  Website link
Written by Kelly DiBendetto
Boston Post Adoption Resources