Movie Review: Twin Sisters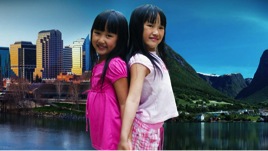 When you think of adoption, what do you think of? Mona Friis Bertheussen directed and produced Twin Sisters, a must-see documentary based on family, adoption, and two twins—born together, separated at birth, and reunited at the age of eight.
It began in China, with a couple from California and a couple from Norway who were ready to embark on the journeys life has to offer with a beautiful child. Upon meeting their new addition to the family, the adopted parents also met one another. Their babies both in the same dress, same birthday, and same smile… it couldn't be.
The families asked the Chinese organization if there was any way these two baby girls could be twins, their answer: No. With this, the families exchanged contact information as best as they could and went their separate ways.
Mia was raised in the typical white American family, with violin lessons, soccer, girl scouts, family nights out to dinner, and more.
Alexandria was raised in the beautiful yet isolated village of Fresvik in Norway, with her mother, father, and pet mouse.
A year after the adoption, still unsure of what the incredible bond between the two children meant, both families agreed to get DNA testing done. They soon found out that the Chinese organization had provided them with wrong information – Mia and Alexandria were twins separated at birth.
Through the struggles of a language barrier, being an ocean apart, adoption, and culture, the girls found a way to communicate with one another through letters, by phone, and eventually they had a reunion in Norway.
Imagine for a moment that you were a twin separated at birth. Imagine what the Chinese organization was thinking. Did they really not know they were twins? Or did they assume the children would have a better chance of being adopted if they were separated? Imagine these things, and how do you feel?
Reunion was a plan from the start, but when it should happen was the question. The families wanted the girls to remember their first time together so the decision was made that when they were eight years old. Mia, along with her mother and father would fly to Norway.
This film is breathtaking; watching the bond the twins had after living on different sides of the globe, overcoming a language barrier, and the importance and simplicity of family within complex life dynamics is more than just connection, it's love; the core of family.
By Maya Rogers-Bursen
Boston Post Adoption Resources