Lauren's Story: How Meeting My Birth Brothers Changed My World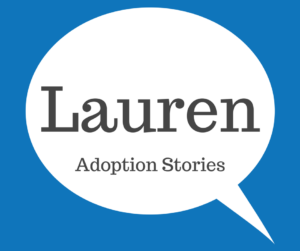 Lauren is a hair stylist in Massachusetts. Recently, she was reunited with two birth brothers, and she has shared her heartwarming story with BPAR.
An Adoption Story
by Lauren, BPAR Client
The day I met my birth brothers my whole world made sense. A hole in my heart was filled that I never knew even existed. All the confusion, pain, the unanswered questions and lack of identity all melted away.
The day I found my brother James on Facebook my heart fluttered with excitement. The second my brother's picture popped up - I knew it was him. I remember that moment so clearly. Right when I saw his picture, I knew he had to be my brother. The resemblance was out of this world remarkable. He could literally pass off as my twin. My heart was going a million miles a minute and I wanted to ask so many questions, but I was so amazed just to hear his voice. I learned we have the same birth mother and father and another full brother named Chris. I have two FULL brothers! How unbelievable is that! My whole life I always wanted little brothers (even though they're really my big, little brothers). We started FaceTiming and talking daily, and I booked a flight to Tennessee for a couple of weeks out. As the days went by I realized I couldn't wait any longer. I wasn't eating and I wasn't sleeping. I just had to see their faces. I changed my flight to the next day.
My whole life I had always been sheltered and protected out of love by my amazing parents. I had never been on a train, a plane or a taxi by myself in my life. Heck, I used to be scared to walk into a store alone! This was something that I had to do myself. I broke out of my shell and made this journey alone. I was scared to death, but my excitement overcame it – and let me tell you it was so empowering. I was finally going to meet my own blood and flesh!
Hugging my brothers Chris and James for the first time is hard for words to explain. It was pure love. They accepted me and welcomed me with open arms. I feel so lucky because I know these stories don't always go like this. The bond we formed over the weekend was so special and so tight; I know it could never be broken. I know we'll have it forever. We laughed, I cried, and we stayed up talking all night. That weekend and the other times we have spent together have been some of the best moments of my life.
It's amazing how you can go your whole life not knowing someone, and the moment you meet him or her you feel like you have known each other all along. My brother James is a fun-loving, free-spirited hippy just like me, and my brother Chris is one of the funniest, caring, loving people I know. They both make me laugh so hard I practically pee my pants. I see myself in both of them, and I love that I can finally share that with them.
27 years is a long time, but it was well worth the wait. I love my brothers dearly, and I know we'll always have each other's backs. People don't need to understand our impulsiveness with seeing each other so often, and that's okay because no one would understand unless they've walked in our shoes. I just can't miss out on a single moment with them. We've already made so many memories, and here's to many more.
Lauren connecting with BPAR
When I first met Kelly, she happened to be a client in my chair getting her hair done. I asked her what she did for work and she told me she worked for BPAR. I've always felt things happen for a reason, and it was amazing how she fell into my hands. I expressed to her how I've always wondered about my birth family and recently wanted to start the search for them. Before she left we exchanged emails and I made an appointment with her. Right off the bat I felt very comfortable confiding in Kelly and expressing my emotions to her. When I had my first appointment, I was greeted by Kelly and Jennifer, who were both awesome and very understanding about all my thoughts and feelings. I finally felt like someone was hearing me, really hearing me. They explained to me the search process, expectations, and scenarios of what could happen. They worked with my adoption agency in opening up my birth records and getting more information for me. Things happened really fast, and I got a call a couple weeks later with my birth father's last name. When I hung up the phone I was hysterically crying joyous tears. I felt scared, excited and relieved that I was  finally finding my birth family after all these years of wondering. I found out I have two full brothers and two half siblings. I connected with my brothers immediately and we quickly became best friends. I felt like even though I was missing out on them for so long, that they've actually been there all along. They filled a hole in my heart that I never even knew existed. I kept in contact with Jennifer and Kelly, and they helped support me and coach me throughout this journey.
—LAUREN, GUEST BLOGGER