Book Review: FROM SCRATCH: A Memoir of Love, Sicily, and Finding Home by Tembi Locke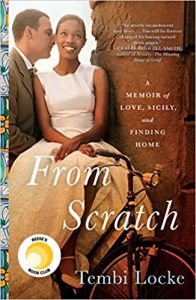 We wanted to highlight a book with an adoption theme as we say goodbye to National Adoption Awareness Month and approach the holiday season.
Tembi Locke, an actress, author and advocate, writes a heartfelt memoir entitled From Scratch: A Memoir of Love, Sicily, and Finding Home. This is a personal story of love, loss, adoption and family. Tembi reminds us that life never turns out as we expect it to. The author writes poignantly about healing from a devastating loss as she navigates her husband's homeland and connects with his Sicilian family.
Tembi, a black American college student from Texas, meets Saro, a white Sicilian chef in Florence, Italy. They fall for each other immediately and the long distance relationship blossoms.Their romantic love story gets weighed down by Saro's traditional Sicilian family who are unaccepting of the relationship. Without the blessing of Saro's family, they marry. After they wed, Tembi and Saro continue on a life journey of love and heartbreak. Together they face Saro's cancer diagnosis and experience infertility. Despite Saro's health issues, he and Tembi know that having a family is important to them, so they move forward with an adoption plan.
Zoela comes into their lives as a newborn, and Tembi and Saros' love for each other deepens. Zoela brings them much joy and hope for their future. At the same time, Tembi understands that along with the powerful love that they feel for their daughter, they experience a well of loss and grief as well. Tembi describes her conflicted feelings to an adoption social worker who responds, "Remember what you are feeling right now. Remember, because at the heart of adoption is this love and this loss, all at once. Your daughter will know this feeling one day. It is the realization that she had to say good-bye in order to say hello. That is how your love as a family came to be." (p. 130)
Tragically, Tembi and Zoela face more devastating loss several years later. After fighting a cancer battle that Saro cannot win, Tembi is left with a small child.  Following Saro's death, Tembi boards a plane for Sicily and visits her mother-in-law, Nonna. Tembi makes peace with her mother-in-law, and she and Zoela make a commitment to spend summers on the island of Sicily with her. The bond between the three females becomes a healing journey for all three. While they navigate the many cultural, class, educational and language differences that each brings to the relationship, they find a common thread that so tightly weaves these relationships in food and a love for Saro. The women and child bond over meals, and Nonna expresses her love through her food. Tembi writes about her mother-in-law: "Her food spoke of malleability and resourcefulness in loss, in love, and in life." Tembi reminds the reader what truly matters in our lives: our love and relationships with each other and the power of healing the pain so that our relationships can grow even stronger.
Written by Jennifer Eckert, LICSW
Boston Post Adoption Resources