Adoption Is a Lifelong Journey – Book Details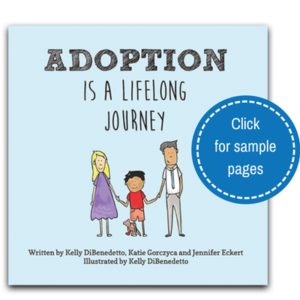 A tool created by BPAR's therapy team
Adoption Is a Lifelong Journey
Written from the perspective of the child, Adoption Is a Lifelong Journey provides insight into emotions and thoughts an adoptee or foster child might encounter while also equipping caregivers with timely responses and resources.
Adoption brings its own set of unique experiences of joys and challenges. While every adoption story is unique, this book highlights common themes we have seen in our work with families touched by adoption.

BPAR, a 501(c)(3) organization, devotes all proceeds from the sale of our book
to our mission to support and provide resources to anyone touched by adoption.
Adoption Is a Lifelong Journey is divided into two parts:
Illustrated portion written in the voice of Charlie, an adoptee (17 pages)

Can help parents recognize sources of behavior and feelings the child isn't able to express
Appropriate for parents to read with the child to help normalize feelings and start a discussion

Explanations and resources for parents and caregivers in a section we call "Putting the Pieces Together" (12 pages)

Expands on topics introduced in the illustrated portion to promote better understanding
Offers recommendations from BPAR's team of licensed mental health professionals
Suggests additional resources including books and websites
Topics addressed in the book:
Settling in during the transition
Forging family bonds in the early stages
Building trust when there's a fear of rejection
Instilling a sense of worth despite a feeling of abandonment
Sharing details about origins
Preparing for outsiders' questions
Grappling with identity
Knowing when to seek professional help
Finding balance as a caregiver
Who will benefit from the book:
Adoption and foster care agencies that want to prepare parents and caregivers early in the adoption process
Mental health professionals (like the team at BPAR!) searching for a tool to open a dialogue
Prospective adoptive parents interested in learning about challenges they might encounter
Adoptive or foster parents and their extended family members looking for insight into their child's unexpressed thoughts and needs at various points in development
Teachers and school health facilitators who want to be inclusive of all students in their assignments and conversations
Available in paperback and on Kindle