Welcome to the Neighborhood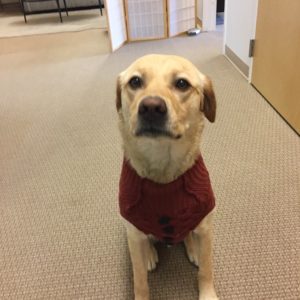 Meet Mr. Roger!
You may notice a member of our BPAR team lounging around the office, sometimes in his signature cable knit sweater. He is gentle, kind and a good listener, all the qualities needed for a good therapist. We would like to introduce you to Mr. Roger, BPAR's therapy dog.
Roger came to us from The Seeing Eye in Morristown New Jersey. The Seeing Eye has been providing guide dogs for the blind at no cost since 1929. They are a philanthropic organization whose mission is to enhance the independence, dignity, and self-confidence of blind people through the use of Seeing Eye dogs. (To find out more about the program check out https://www.seeingeye.org/)
Roger was trained at The Seeing Eye as a service dog. He studied hard and almost made graduation; however, due to unforeseen circumstances, Roger had to leave school.  He had to leave his family and friends and start a new life in a strange and unknown home.
We wanted to tell you Roger's story because we have all been there. What feels like a failure or a set back to us can be hard to accept and can difficult to more forward. We had a detailed, deliberate plan, and now it has been derailed. We are forced to accept the unacceptable. In the moment it seems like a catastrophe, the end of the world.
Take a moment and reflect on times in your life when you were faced with a challenge or a set back. We are required to change course, but in the long run it turns out to be a good decision. Our lives are changed for the better. Set backs can teach us lessons we would never have learned if things had gone as we planned.
Roger is now in a loving home and is a therapy dog at BPAR. He is continuing his education and is very happy with his new life and career.
Please welcome Mr. Roger, or Roge, the next time you are at BPAR.  He has a gift for making people smile and guiding them back to the present moment!
Written by Jennifer Eckert, LICSW
Boston Post Adoption Resources