Chandani: Imagining My Birth Mother
Note from the author: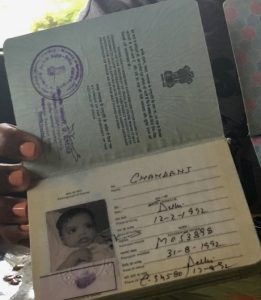 When I was born, my birth mother named me Chandani. In Hindi, this name means moonlight. I don't know why she chose this name, but when I was adopted, my parents named me Maya. Some adoptees have access to answers that help shape their identity. Most of the pieces to my puzzle are missing. When adoptees like me grow up with so many unknowns shaping our "Chapter One," sometimes it's comforting to fill the gaps by making up  stories. These fantasies can provide us with something tangible to frame our journeys. In my last blog, I invited you on my anticipated journey back to India. The first part of any journey starts at its beginning. My beginning was Chandani.
---
Chandani
For the last 5 months of pregnancy she lived with her friend, away from the family's village as to keep the baby a secret from the close community.
On the night of February 12th, 1992, in a hut in the ancient city of Patna, she grasped onto her stomach with one hand while shaking her mom awake with the other. "Maa utho, bachcha aa raha hai…Maa utho, bachcha aa raha hai!" (Mom wake up, the baby is coming…Mom wake up, the baby is coming!)
Her mom wrapped the beautiful dark blue and gold saree she had laid out around her waist and took her hand. "Sab theek ho jaega, mere saath chalo" (Everything will be okay, walk with me). The moonlight guided their way along the dirt road, past parked rickshaws and her favorite jalebi stand on the corner. Across the train tracks and by children trying to sleep on their cardboard beds, down the dusty street and into the small hospital waiting room. "Krpaya madad karen" (please help) her mother said to the nurse. The nurse wheeled out an old burgundy wheelchair and asked her to sit as they changed the bed sheets of another birth.
The nurse took the light pink curtain hanging from the ceiling rod and slid it around the bed. She draped a sheet over her bent knees and gently felt how far along the baby was. "Yeh bachcha taiyaar hai, aapako dhakka dene kee jaroorat hai" (This baby is ready, you need to push). Tears dripped down her face as she clenched onto her mother's hand, pushing as hard as she could. "Phir se, ek baar" (Again, one more time). She took a deep breath and pushed one last time. The sound of life, the sound of tears and cries radiated around the hanging curtain. Her mother cut the umbilical cord and the nurse placed a beautiful baby girl in the arms of her mother. "Aapane bahut achchha kiya, vah ek svasth bachcha hai" (You did great, she is a healthy baby).  She wiped the tears from her cheeks, kissed the baby on her forehead and whispered "Mai tumhe hamesha pyaar karoonga" (I will always love you). 
The train station was a mile from her hut. They walked the baby past bikes and loud streets, past the smell of street vendors and the sound of children playing. The sun warmed an old metal bench on the platform of a train coming from New Delhi. She sat there, her mother's arm around her shoulders, as she held the baby close. "Yeh duniya aapako shaanti pradaan kare. Yeh duniya aapako pyaar lae. Yeh duniya aapake lie parivaar lekar aae. Yeh sansaar aapako praskaash de." (May this world bring you peace. May this world bring you love. May this world bring you family. May this world give you light). The train doors opened, and a short woman wearing a habit walked toward the bench. Her mother stood up, waiting for her to stand with the baby. She stayed as still as a statue, her wide eyes dripping tears onto the baby's cheek. "Mona, main uske saath jaoongee. Mujhe yakeen hai ki vah vahana surakshit roop se pahunch jaegee. Main use tab tak nahin chhodoonga jab tak ham use anaathaalay mein nahin bana dete." (Mona, I will go with her. I will make sure she gets there safely. I will not leave her until we make it to the orphanage). She looked up at her mother, then at the nun. As her mother walked toward her, she reached up to give her the baby.
"Yaahtriyon ko dhyaan den: yeh aapaka kandaktar bol raha hai. Yeh tren steshan chhodane vaalee hai. Krpaya band daravaaje ke spasht khade ho jao" (Attention passengers: this is your conductor speaking. This train is about to leave the station. Please stand clear of the closing doors). She kept her eyes on her baby as they stepped onto the train. The nun turned around and asked, "Uske naam kya hai?" (What is her name?). She looked up as the doors were closing. "Uska naam chandani hai" (Her name is Chandani). 
The doors closed and the train disappeared into the sun. She sat on the hot metal bench until it cooled from shadow, until the sun set, and the moon's light lay in her lap. Her hand guided a kiss into the heavy air, past trees and sleeping birds. Through clouds and around stars. Into the darkness, landing on the moon. She whispered "chandani aapako meree khoobasoorat ladakee ka maargadarshan karegee" (The moonlight will guide you my beautiful girl).
Written by Maya Rogers-Bursen
Boston Post Adoption Resources