BPAR Post Adoption Learning Center

TRANSRACIAL ADOPTION RESOURCE
Paperback and ebook: Adoption Is a Lifelong Journey
Source: Boston Post Adoption Resources (2017)
Cost: $9.99 for paperback; $3.99 for ebook
Primary audience: Prospective and  current adoptive and foster parents & caregivers
Secondary audience: Professionals working with children and families before or after adoption
Average time to complete: 5 minutes for a parent to read illustrated section to a child; 15 minutes to read section with parenting resources
Purpose: We couldn't find many books that presented the child adoptee's perspective, so we wrote and published our own. In the illustrated portion, Charlie, a transracial adoptee, opens his heart and shares what's on his mind through various phases as he grows up in his adoptive home. Adoption Is a Lifelong Journey is marketed as a parenting book because it's designed for parents to read with their child to open a dialogue and help parents be comfortable talking about the issues surrounding adoption or foster care. Many topics are covered in addition to transracial adoption.
Description: Written from the perspective of the child, Adoption Is a Lifelong Journey provides insight into emotions and thoughts an adoptee or foster child might encounter while also equipping caregivers with timely responses and resources. Charlie's voice brings to light common themes BPAR clinicians often encounter. We link the illustrated portion of Adoption Is a Lifelong Journey to a section called "Putting the Pieces Together," with suggestions and recommendations to provide encouragement:  things to think about, tips for conversations, family activities, and additional resources.
Details:
Adoption Is a Lifelong Journey is divided into two parts:
Illustrated portion written in the voice of Charlie, an adoptee (17 pages)

Can help parents recognize sources of behavior and feelings the child isn't able to express
Appropriate for parents to read with the child to help normalize feelings and start a discussion

Explanations and resources for parents and caregivers in a section we call "Putting the Pieces Together" (12 pages)

Expands on topics introduced in the illustrated portion to promote better understanding
Offers recommendations from BPAR's team of licensed mental health professionals
Suggests additional resources including books and websites
Topics addressed in the book:
Settling in during the transition
Forging family bonds in the early stages
Building trust when there's a fear of rejection
Instilling a sense of worth despite a feeling of abandonment
Sharing details about origins
Preparing for outsiders' questions
Grappling with identity
Knowing when to seek professional help
Finding balance as a caregiver
Reviews
"The best book of its kind that I have ever read. All adoptive parents and prospective adoptive parents need to read this book. It is superb."
—JOE SOLL, LCSW, ADOPTEE, PSYCHOTHERAPIST & AUTHOR OF ADOPTION HEALING: A PATH TO RECOVERY
"Each page beckons the adults in the room to step into the shoes of the child, providing insights and tools to help educate and empower families and create a healthy environment for children to thrive."
—JEAN A. S. STRAUSS, AUTHOR OF BIRTHRIGHT: THE GUIDE TO SEARCH AND REUNION FOR ADOPTEES, BIRTHPARENTS, AND ADOPTIVE PARENTS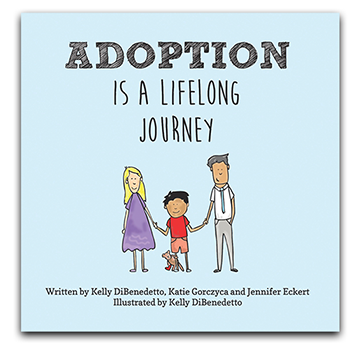 Please take a moment to provide feedback. We value your opinion.