Adoptee Writers & Speakers Needed!
Submission deadline: September 20th
Voices Unheard:
Real Adoptee Stories
Are you an adult adoptee looking for a creative forum? Boston Post Adoption Resources (BPAR) is seeking adoptee writers willing to read or perform their adoption-themed work (short memoirs, essays, poetry, songs and comedy) at our November 2022 & May 2023 in-person events at the Lilypad in Cambridge, MA.
Our hope is to gather around 10 pieces of writing, comedy or song for each event to be read or performed by the authors. So if you are interested, please submit your work! Here's our flyer with details:

(Click here for an image of this flyer so you can share it!)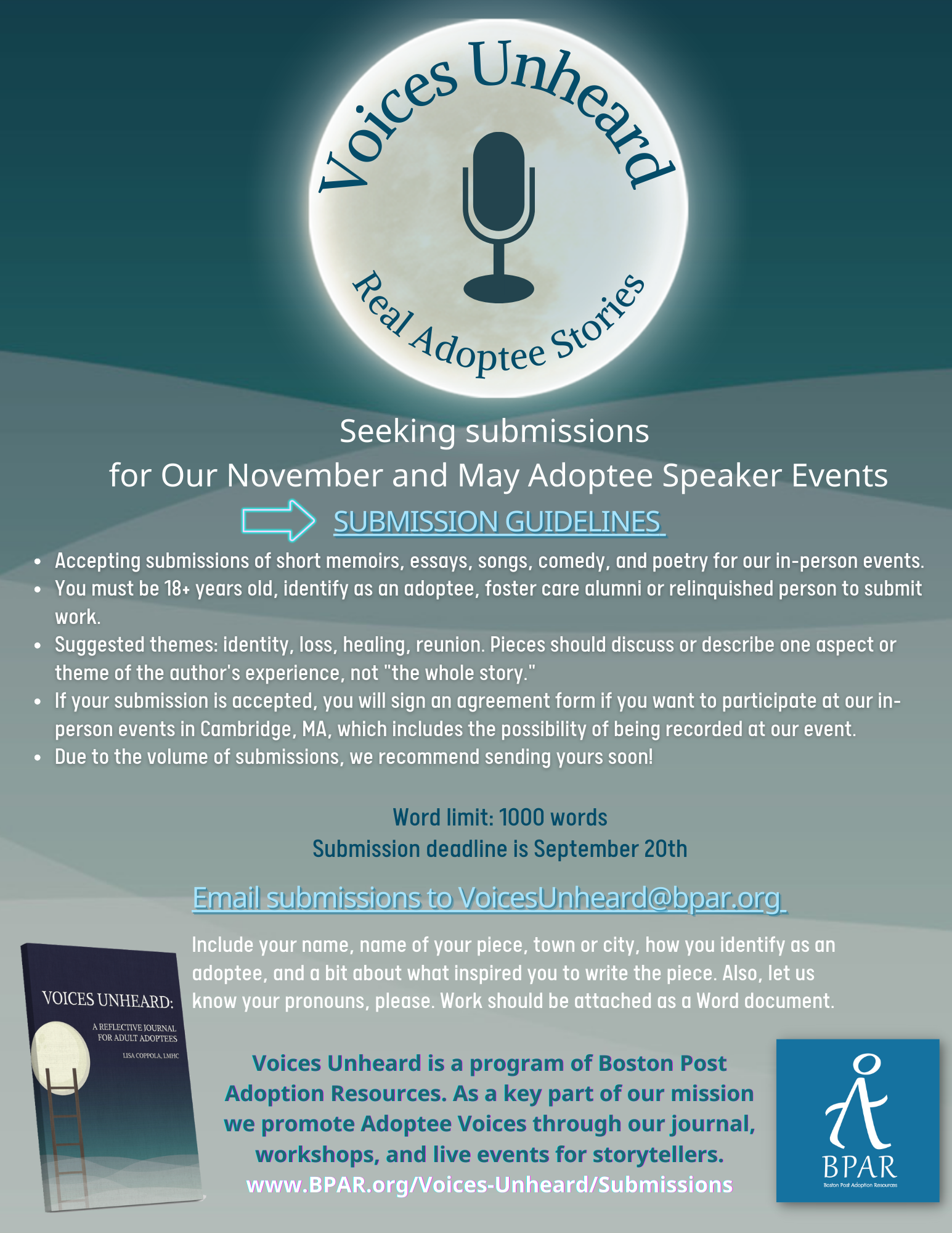 About the Submission Process
Submissions will be reviewed by Lisa Coppola, LMHC, a BPAR clinician and adoptee who brings many years of experience working with themes around the adoptee experience.
We will contact you with initial feedback. Not all submissions may be accepted. It is our hope to continue Voices Unheard nights multiple times per year, so if your submission does not make it into this event, we will try our best to get it into the next!
A Little Background
We developed Voices Unheard because of our deep belief in the value of community and creative expression for adult adoptees.
On November 12, 2019, BPAR hosted our first public event, bringing the Greater Boston community together to listen to adult adoptees as they shared their lived experiences.
While our plans for a second public event in 2020 couldn't materialize due to the pandemic, we were able to offer both an in-person and live-streamed forum on November 29, 2021.
(We also devoted some of the pandemic months to writing and publishing our own journal, Voices Unheard: A Reflective Journal for Adult Adoptees! Learn more here.)
About the Event
Details about the event, including ticketing for family, friends, and the community, are posted on BPAR's Voices Unheard page!